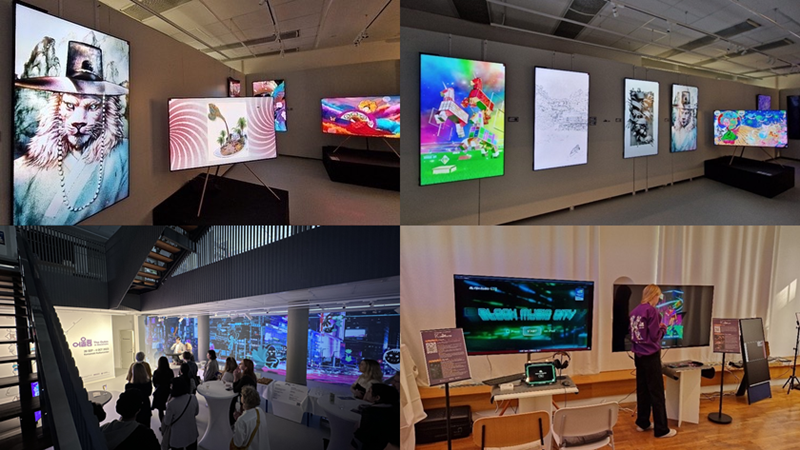 By Hong Angie

An event in the U.K. will highlight the convergence of Korea's cultural content with cutting-edge technology such as artificial intelligence (AI).

The Ministry of Culture, Sports and Tourism and Korea Creative Content Agency announced their joint hosting of the exhibition "The Oulim" from Oct. 28 to Nov. 5 at Saatchi Gallery London under the theme "Harmonious Connect."

Marking the 140th anniversary of ties between Korea and the U.K., "The Oulim" showcases 80 types of content from new technology convergence combining outstanding Korean technology and artistic inspirations.
The exhibition will showcase a range of cultural content using cutting-edge technology like AI authoring tools, the metaverse and non-fungible tokens (NFT), virtual reality (VR) and media art.

Featured are digital virtual human content that uses AI, concert videos of K-pop groups BTS and (G)I-DLE utilizing AI authoring tools, and content like videos and games applying popular intellectual property like the hit drama "Extraordinary Attorney Woo."

The media art highlights include works based on the nation's traditional culture matter like the "Royal Procession with the People" from the National Museum of Korea, Jongmyo Jeryeak (royal ancestral ritual music of the Joseon Dynasty) from the National Gugak Center and the domestic information technology company PostMedia's "Royal Tombs of the Joseon Dynasty."
The venue also features the metaverse, NFT and VR as well as games, movies, dramas and music content that use holograms.
An exchange event at the opening ceremony on Oct. 28 will attract 40 British and 20 Korean content companies including the U.K.'s Sandbox VR, which released a VR game based on the hit original Netflix drama "Squid Game."
"Through 'The Oulim,' we will present to Europe including the U.K. the appeal of new technology convergence content that combines technology with Hallyu (Korean Wave) IP and Korea's cultural capacity," said Yune Yangsoo, director-general of the ministry's Content Policy Bureau. "We will support this event to make it a venue where our companies create opportunities."
First held in Sweden last month, "The Oulim" will move from London to Tokyo, Japan, and run there from Dec. 14-25.