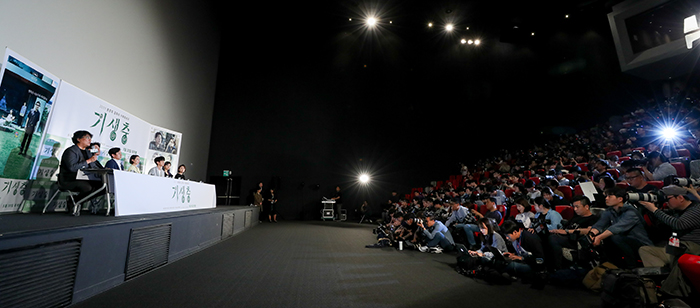 By Lee Kyoung Mi and Lee Jihae
Photos = Kim Sunjoo 
Seoul | May 28, 2019
Fresh from winning the top award at this year's Cannes Film Festival, "Parasite" on May 28 made its Korea premiere in an advance media screening at the theater CGV Yongsan in Seoul.
Director Bong Joon-ho and cast members Song Kang-ho, Lee Sun-kyun, Cho Yeo-jeong, Choi Woo-shik, Park So-dam and Jang Hye-jin attended the event, in which the movie was officially screened for the first time since the Cannes festival. The film is a social satire about the clash between an affluent household and a poor one, which it portrays with tension and wit.
In addition to reporters from Korean media, those from foreign outlets such as The Associated Press, Reuters and Kyodo News also flocked to the event. With this year marking the centennial anniversary of Korean cinema, "Parasite" became the first Korean film to claim the Palme d'Or, the top award at Cannes.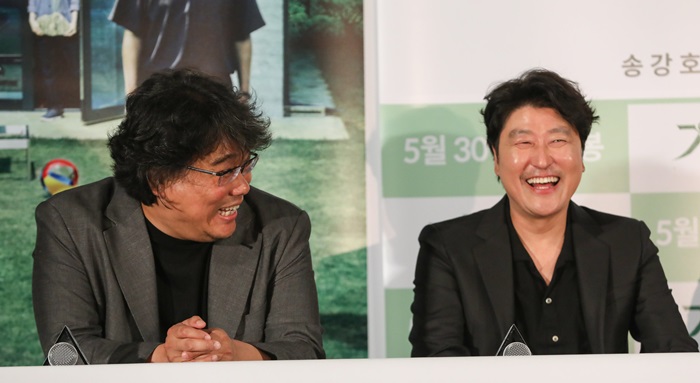 In a media briefing after the screening, the director said his movie's most important motif and subject matter was "smell," adding, "I tried to portray the rich and the poor in a very honest and truthful manner without using socioeconomic vocabulary like 'polarization.'"
"I wanted to touch on human respect and dignity."
Actor Song Kang-ho, whose role in the film was the head of an unemployed family, said, "The movie has a film format but is like a varied version of a film. It's like a hodgepodge of various genres."
He said he heavily contemplated how to effectively convey this movie's characteristic. "I hope audiences enjoy the film, reflect on the movie's themes such as smell and boundaries, and contemplate themselves and society," he said.
Bong concluded the media briefing by saying, "(Getting the Palme d'Or at) Cannes is already in the past," adding, "I want to disguise myself and find theaters to secretly hear vivid impressions of the film."