The 2016 Gwangju World Web Content Festival kicked off on June 23. Under the slogan "Web people, roar into the world," the festival lifted its curtain in and around the Asia Culture Center in Gwangju. The festival consists of three main parts: the Imagination Web Dream Site; the Creative Play Zone; and an Exhibition & International Conference.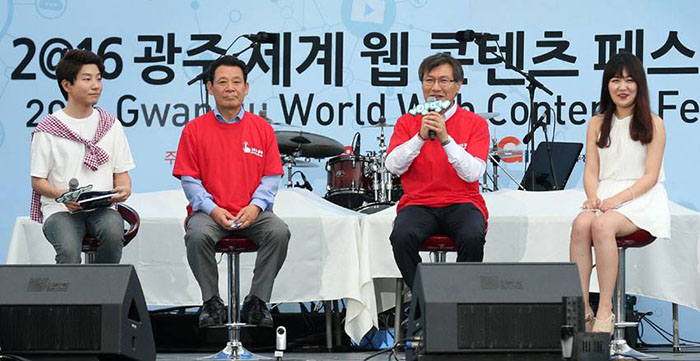 A special one-episode online drama "Once Upon a Time in Gwangju" was even specially produced for the festival, and it was aired to mark the start of the festival's four-day run.
The festival started off in earnest with an international conference that brought together experts and representatives from both domestic and overseas businesses and academic bodies specialized in the production of online content, including Google and Naver and online content production firm Bigfrog. The talks ran under the theme "The Era of Mobile – Revolution of Web Content," and participants shared their thoughts on four subjects: the revolution of online content; the Chinese internet in the "Black Hole, China's Content Big Bang" seminar; web formats; and, lastly, the future of multi channel networks (MCN) and Korea-created online content.
The festival will continue until June 26 and will reveal a new world of creative content. A total of 23 teams of creators and 48 businesses from video games, cosmetics and the cooking industries will meet with future creators, as well as those who want to learn more about these industries. There will be talks and mentoring events, too. In particular, the creators will share their stories of how they began in the industry, what they experienced during their activities, and share their secrets to producing great content.
Bigfrog, the first online-only drama and soap opera production company, has also set up a "Creation Factory" where visitors can have some hands-on experiences in producing online TV shows, or can be turned into a soap opera character themselves. Creators there will demonstrate exactly how their creations were made.
There will be performances, exhibitions and one-on-one business consultation sessions, too. The consultation meetings will welcome investors and production companies from China, Malaysia and other Asian countries, allowing them to share information about content production and business with their Korean counterparts.
"Online content, what we call a combination of various societies, cultural technologies and knowhow, is a new growth engine for the future," said Kim Taek-hwan, president of the festival's organizing committee. "This festival gives a glimpse into the rapid changes that have been made in the content industry and its environment. In particular, this festival brings together well-known content creators, and they'll give the best advice they can to promising future creators," he added.
By Sohn JiAe
Korea.net Staff Writer
Photos: Jeon Han, Korea.net Photographer
[email protected]