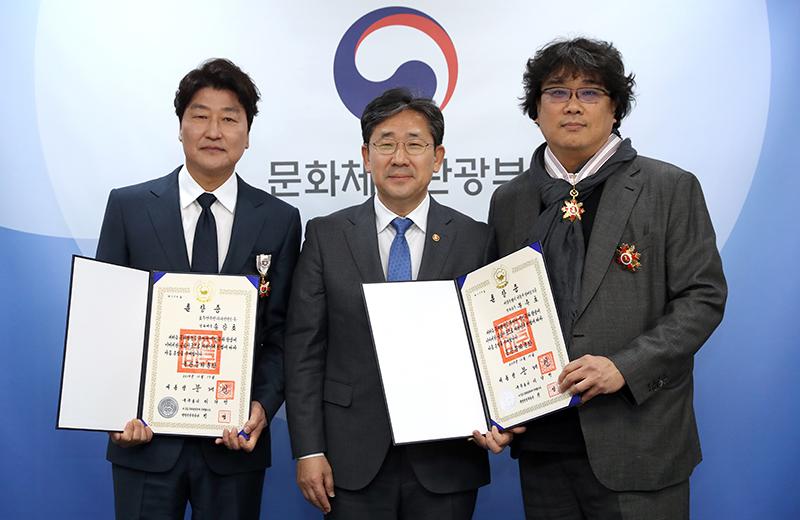 By Lee Jihae
"Parasite" director Bong Joon-ho on Dec. 19 received the Eungwan Order of Cultural Merit and actor Song Kang-ho the Okgwan Order of Cultural Merit from Minister of Culture, Sports and Tourism Park Yang-woo for helping raise the stature of Korean cinema.
The black comedy in May nabbed the Palme d'Or, the top award of the Cannes Film Festival. More than 10 million people have seen the film in Korea and the movie is a hit abroad in countries such as the U.S. and France.
Bong's previous works such as "The Host" (2006), "Mother" (2009) and "Snowpiercer" (2014) have gained recognition at home and abroad for their cinematic quality and mass appeal.
Song, who played the lead in several of Bong's films such as "The Host" and "Snowpiercer," has also starred in other Korean blockbusters such as "Joint Security Area" (2000), "Memories of Murder" (2003), "Secret Sunshine" (2007), "The Attorney" (2013) and "A Taxi Driver" (2017), further cementing his status as the leading face of Korean cinema.
"'Parasite,' which I've worked on as usual over the past 20 years, has led me to win this award. This is such an honor. Thank you," Bong said.
"I will calmly take one step at a time on the path of making films, as I always have."
Song said, "I accept this award on behalf of the outstanding production staff and other cast, so I receive this award with more gratitude and honor."
On Dec. 10, "Parasite" received nominations for best director, best screenplay and best foreign-language film at the 77th Golden Globe Awards next month. It was also nominated on Dec. 17 for best international feature film and best original song at the 92nd Academy Awards slated for February, so how the film will fare in both award ceremonies is attracting keen interest.