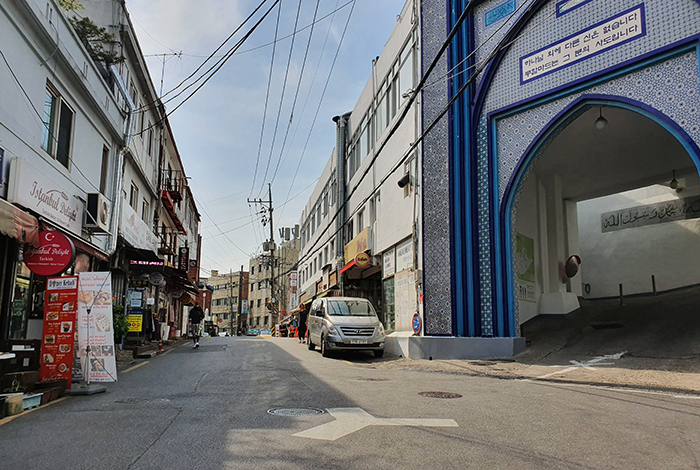 By Kim Young Deok and Yoon Sojung
Photos = Kim Young Deok
Seoul | May 7, 2019
Usadan-ro in Seoul's foreign neighborhood of Itaewon on May 7 seemed so quiet around 4 p.m. As the Korean capital's only Islamic street where Seoul Central Mosque is located, the area saw far fewer Muslims outside by day since they were fasting from dawn to dusk during the holy month of Ramadan.
Literally meaning "heat wave," Ramadan, the ninth month of the Muslim lunar calendar, began this year on May 5. During the month-long period, all Muslims must fast from dawn to dusk.
Usadan-ro is the most popular place for Muslims in Korea, with about 40 Muslim businesses there. During Ramadan, however, this area is so quiet because Muslims avoid unnecessary activity outside due to fasting.
Noila Odilova from Uzbekistan, who has been working at Kervan Café next to the mosque, said, "Unlike last week, we have only two or three people at the café during daytime," adding, "More people come to the street after 7 p.m."
When the sun sets, the mosque begins to get crowded with Muslims who visit for iftar(dinner). During Ramadan, the mosque offers meals to 100 Muslims, who eat their first meal after fasting for the day.
Iftar began at 7:40 p.m. after evening prayer. Although it was a weekday, about 400 people gathered there to eat halal chicken.
Mhumad Alebdi, 35, from Iraq said, "Ramadan is an important Islamic holiday equivalent to Korea's Chuseok (Thanksgiving) holidays."
"Iftar embraces everyone regardless of race, nationality, religion, wealth or poverty," he said, adding that he has lived in Itaewon for nine years and goes to the mosque every day during Ramadan.
After dinner ended at 8:50 p.m., Usadan-ro was full of people. During Ramadan, the street is far brighter at night than in the morning.
[email protected]rea.kr