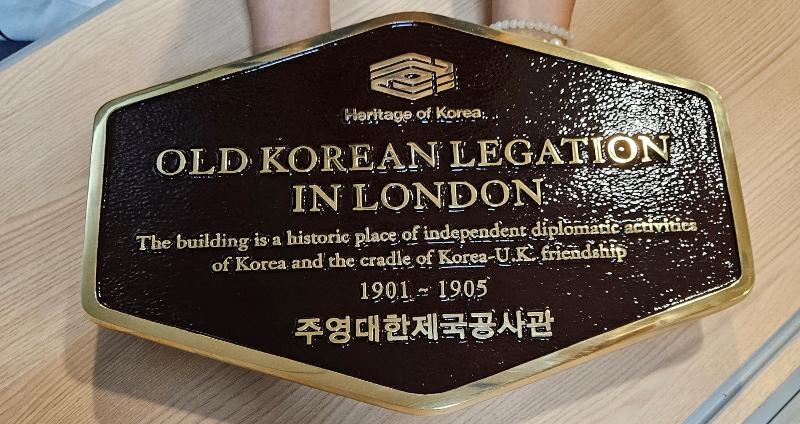 By Aisylu Akhmetzianova
Photos = Cultural Heritage Administration
A sign has been hanged at the former legation building of the Korean Empire (1897-1910) in London to mark the 140th anniversary of diplomatic ties between Korea and the U.K.

The Cultural Heritage Administration (CHA) and the Korean Embassy in London on Oct. 31 said they held the day before an unveiling ceremony at Sunny Hill Court in Earl's Court, a district of Kensington in the Royal Borough of Kensington and Chelsea in West London, to indicate that the building once housed the legation, which ran from 1901-05.

As one of the six legations abroad of the Korean Empire, the one in London was a major base for diplomatic activity like exchanges with diplomatic envoys and promotion of the empire's sovereignty.
The ceremony came 122 years after the building's inaugural use by the legation in 1901. Installed above the entrance to the Sunny Hill Court building, the sign is inscribed with the phrases "Korean Empire's Legation in the U.K." in Korean and "Old Korean Legation in London 1901-1905" in English.
An explanation that was added called the building a historical place where the Korean Empire frequently conducted diplomacy and the cradle of Korea-U.K. ties.
A study commissioned in 2018 by the Overseas Korean Cultural Heritage Foundation to review the building's historical value concluded that its restoration was nearly impossible since it was designated a permanent rental home in the 1960s and had undergone refurbishment of its interior structure.
Instead, the Korean Embassy in London decided to put up the sign in consultation with the building's conservator Peabody Trust.

Attending the ceremony were CHA Administrator Choi Eung-Chon, Ambassador to London Yoon Yeo-cheol, Peabody Trust Chief Executive Ian McDermott, key officials from the British Foreign, Commonwealth & Development Office, and ethnic Koreans in the U.K.

Administrator Choi said, "We hope that the installation of this legation sign makes us think again about the significance of the 140th anniversary of diplomatic relations between Korea and the U.K. and for the legation building, which is embedded with our history, to be preserved intact."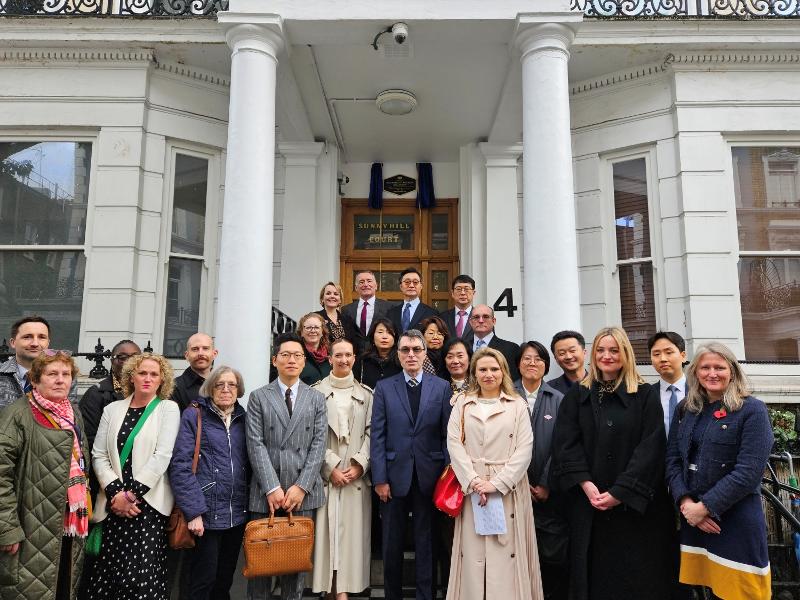 aisylu@korea.kr