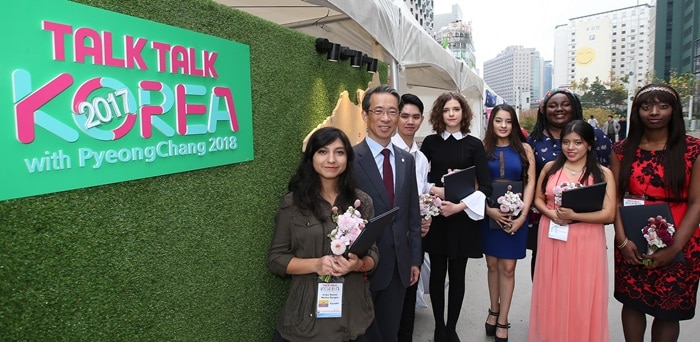 By Kim Eun-young and Kim Young Shin 
The global Talk Talk Korea contest this year is gathering the most participants ever since its launch in 2014.
This year, a total of 32,345 entries have been registered so far, from 146 countries, some 1,300 more than last year's which itself surpassed 30,000 for the first time.
Compared to last year, there have been twice as many participants from Europe. The highest number of submissions from a single country, 2,119, was from Mexico. The number of Russian entries jumped four times since last year, from 526 to 1,962, putting Korea's northern neighbor second on the list.
Co-hosted by the Ministry of Foreign Affairs and the Korean Culture and Information Service (KOCIS), part of the Ministry of Culture, Sports and Tourism, the contest collects creative submissions online that are related to Korean heritage, arts and traditions from all around the world.
Over 44 days from May 16 to June 28 this year, 27,685 entries were submitted across four categories: Korean food, beauty products & style, songs & soap operas and Other, like Hanbok clothes, the Hangeul alphabet and taekwondo. In this year's fifth special topic, "Peace on the Korean Peninsula," 4,660 entries have been received so far.
From each category, 15 entries will be selected, making a total of 75 entries that will compete in the final rounds. Expert analysis and online voting between July 25 to Aug. 30 will decide the finalist.
Starting July 17, entries competing in the final round will be published online on at Korea.net and at the contest's official website (www.talktalkkorea.or.kr). The winning creations will also be exhibited at those websites starting Sept. 3.
First prize winners in each of the five categories will be invited to Korea for a tour of famous spots across the country, such as the Demilitarized Zone (DMZ), and receive a hands-on experience with Korean heritage.
"We got the most participants this year thanks to the world's interest in Korea; it's bigger than ever," said KOCIS Director Kim Tae-hoon. "We'll exhibit the diverse creations submitted to this contest in many places around the world to promote Korean culture and the national image of Korea."