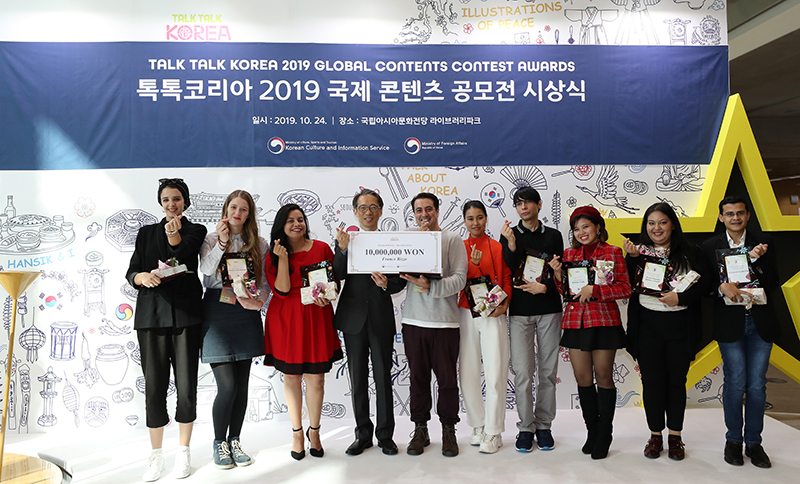 By Kim Young Deok, Lee Kyoung Mi, Oh Hyun Woo and Kim Hwaya
Photos = Jeon Han
Gwangju | Oct. 24, 2019
The awards ceremony of the international Korea-related content competition "Talk Talk Korea 2019" on Oct. 24 was hosted by the Korean Culture and Information Service (KOCIS) at the Asia Culture Center in Gwangju.
Marking its sixth anniversary, the competition this year saw a record 32,519 entries. The grand prize winners of Talk Talk's seven categories attended the ceremony.
KOCIS Director Kim Tae-hoon said, "The level of content is beyond that of amateurs and reaches professional grade," adding, "These award-winning works will get global attention through the ASEAN (Association of Southeast Asian Nations)-Republic of Korea Cultural Tourism Forum, which will be held at the same place."
"KOCIS will strive to publicize Korea overseas and share the value of Korean culture with the world."
The winner of the category "Recommended Korean Songs," Marlen Larez of group Sotto Voce from Venezuela, said she entered the contest because of her love for Korean music and culture. Having played music for more than ten years, she also strummed on her violin the classic Korean folk song "Arirang" to pay tribute to Korean culture.
Arishay from Poland, who expressed Korean people and culture through the conversation of pets in the "Webtoon on Koreans" category, said, "I wanted to show how amazing Korean people are through webtoons," adding, "I also want my work to be made into a soap opera in Korea."
An exhibition displaying the competition's 177 award-winning works will run through Oct. 31 at Library Park of the Asia Culture Center. More information is available on the Talk Talk website (http://www.korea.net/TalkTalkKorea/English) and the Korean government's internet portal www.korea.net.