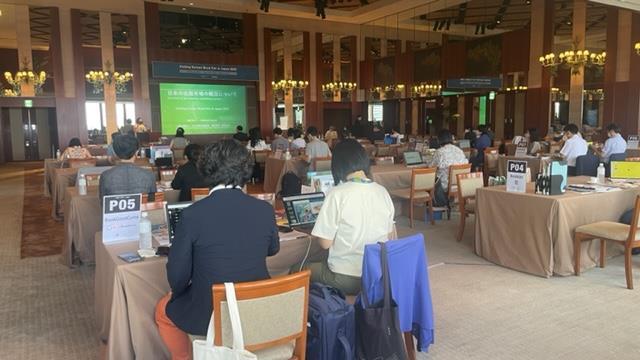 By Yoon Sojung
The Visiting Korean Book Fair, to run in Tokyo, Japan, from May 17-18, will promote the surging popularity of Korean books in the country through export consultations.

Held at Park Hyatt Tokyo, the event is co-hosted by the Korean Ministry of Culture, Sports and Tourism and Publication Industry Promotion Agency of Korea.
As its third edition after the first in 2020 and the second last year, the fair will promote the results of the bilateral summit in March this year and the recent boom in Korean books in Japan to widen cultural cooperation prospects between both countries.
Forty-five Japanese publishers are attending this year's fair, with industry leader Kadokawa and Shueisha, one of Japan's top three comic book companies, making their debuts there.
Others from Japan include Shogakukan, which publishes magazines, picture books and literature; children's book specialist Popular Publishing; Bungeishunju, Ltd., another leading publisher founded in 1923; children's book publisher Gakken, which produced the Korean work "The Strange Guest"; and Turtle-Mori Agency, the country's largest company for foreign copyrights that also attended last year's fair.
Twenty-one companies from Korea will participate in the fair like Munhakdongne Publishing Group, Sakyejul Publishing, Wisdom House and Daewon C.I.
JM Contents Agency, which brokers publishing and copyrights, will hold export consultations for about 100 kinds of books consigned in Korea.
The consultations cover literature, picture and comic books, webtoons, web novels, economy and business, travel and books in large print. Information on Korean books targeted by these consultations is available on the English-language platform for publishing and exporting Korean book exports K-Book (k-book.or.kr).
"People in Japan have taken interest in not only traditionally popular K-pop and K-dramas but also K-Books," Minister of Culture, Sports and Tourism Park Bo Gyoon said. "It's very encouraging to see Japanese teens and people in their 20s as avid readers of such books."
"I hope that Generation MZ (millennials and Generation Z members) in both countries can cooperate by empathizing and communicating with each other through Korean books, and my ministry will provide support so that Japanese readers can grow closer to such books."arete@korea.kr