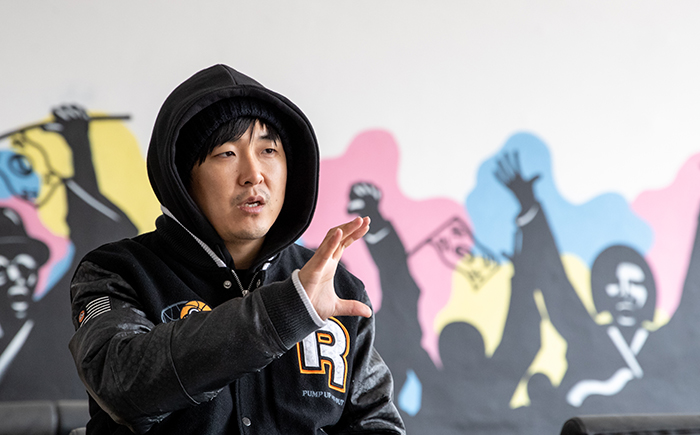 By Song Baleun and Yoon Sojung
Photos = Kim Sunjoo
Video = Leodav Art Crew (L.A.C.) Studio
Seoul | Feb. 18, 2019
Korean graffiti artist Leodav has been busy this year drawing famed independence fighters such as activist martyr Yu Gwan-sun and poet Yun Dong-ju on the walls surrounding the Seoul neighborhoods of Samcheong-dong and Sinchon.
On Jan. 1, he attracted public attention in a ceremony at Seoul's Gwanghwamun Square as part of a project to mark the centennial anniversary of both the March First Independence Movement and the establishment of the Korean Provisional Government in Shanghai. At the event, he presented a live painting performance of the iconic eyeglasses of independence activist Kim Gu (1876-1949) in which he fingerpainted the number 100 using Kim's glasses.
Korea.net on Feb. 18 held an interview with Leodav to learn why he draws Korean independence fighters. At the time, he was working on a new piece at the Independence Hall of Korea in Cheonan, Chungcheongnam-do Province.
Teaching correct history
Leodav has collaborated with celebrities such as K-pop stars GD X Taeyang and AOA, as well as private companies including Adidas and Riot Games.
On why he started drawing independence fighters, the artist recalled when the debate over government-designated textbooks provoked controversy in Korean society.
"My wife got pregnant with our first kid at a time of social turmoil and many issues swept across the country," he said. "So I asked myself, 'What should I do if my kid learns history different from what I learned and sees society differently?'"
After wracking his brain over what to do, he came up with an answer: go out and draw. On Sept. 28, 2013, he started out by drawing independence martyr Yu Gwan-sun on a street in Samcheong-dong, a trendy district in Seoul.
Leodav has since drawn eight independence fighters, including Kim Gu and Yun Bong-gil, next to his first drawing of Yu. The spot featuring his creations has been named a "graffiti street of independence fighters" and emerged as a popular attraction.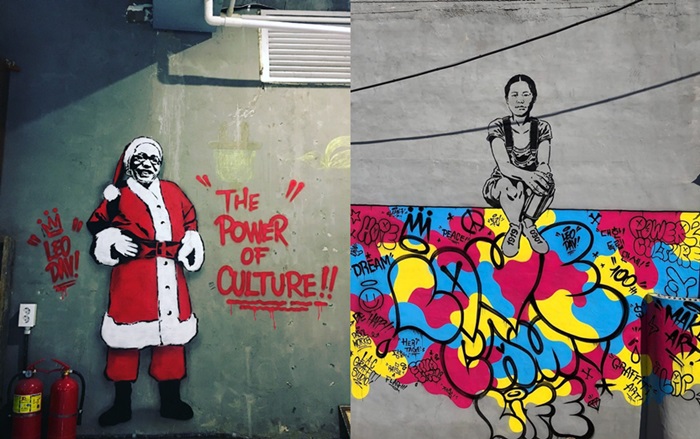 Encountering independence fighters in daily life 
Each of Leodav's works adds wit and a twist to present an image of the independence activist in question that is far from the serious and determined look Koreans are used to in textbooks. For example, he depicted Kim Gu in a Santa Claus costume, Lee Bong-chang holding bread rather than a bomb and poet Yun Dong-ju wearing the typical outfit of a college student.
Leodav said he never liked these figures being shown as dark and sad images, so he began tapping his imagination by asking questions like what they do if they were alive or what clothes they would wear.
On the reason he drew Yu as a graffiti artist, he said graffiti painting would go well with her spirit of fighting for independence against Japan.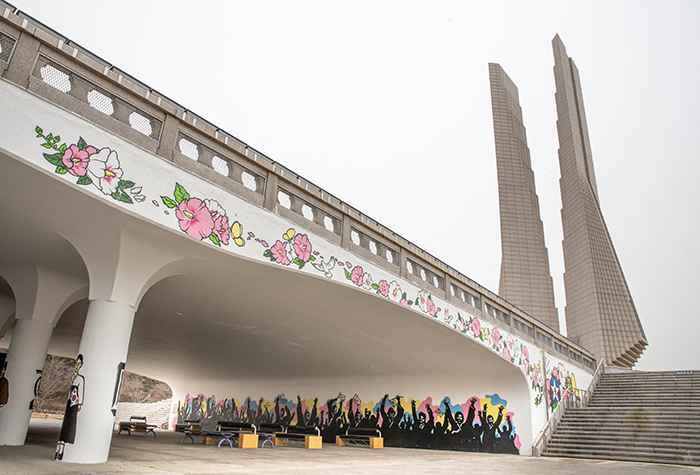 Shedding light on unsung activists 
Leodav's next objective is to honor unsung activists who also contributed to the nation's independence, saying, "Apart from promoting well-known activists, I believe my job is to shine the spotlight on those less known."
Looking far ahead, he said he also wants to create a piece to mark the centennial anniversary of Liberation Day in 2045, saying, "I wish to focus more on female activists and other unknown martyrs in the future."
To this end, he flew to Shanghai in late February to take part in his first graffiti project outside Korea. As part of an exhibition hosted by the Korean Cultural Center in the city, he produced a work depicting three main protest actions by Korean independence fighters there, including the bombing at Hongkew Park by Yun Bong-gil.
His dream? "When Korea is reunified, I want to work in Pyeongyang," he said.