"My life is just beginning."
Pianist Seong-jin Cho, who turns 22 this year, returned to his home country on Feb. 1. This is the first time for him to return since he achieved victory at the 17th International Fryderyk Chopin Piano Competition in October last year, becoming the first Korean to win the most-coveted of competitions.
Cho said in a press conference that, "I've returned home for the first time in a year. I feel so excited coming back and I'm so thankful for all the support I got from my family and fans."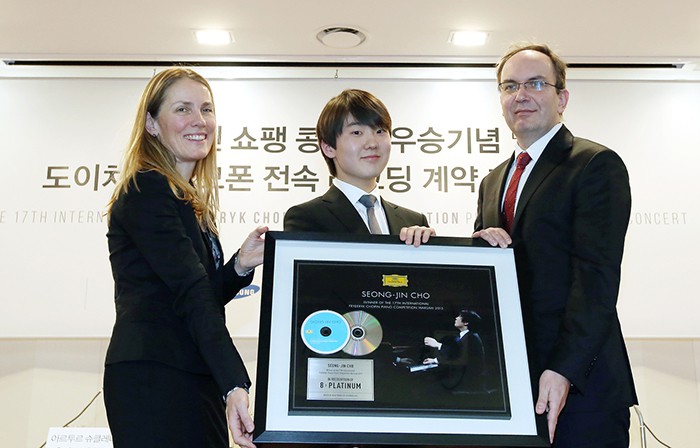 Cho is scheduled to perform twice on Feb. 2 at the Seoul Arts Center in southern Seoul. For the concerts, the musician will collaborate with other award-winners from the 17th International Fryderyk Chopin Piano Competition.
Since his win at the competition, Cho's life has changed dramatically. He has signed with the Paris-based Solea Management company and, more recently, penned a five-year deal with the German classical record label Deutsche Grammophon.
Under the record contract, he will release a total of five albums. He will have his Chopin Piano Concerto No. 1 recorded on the first album, in collaboration with the German orchestra Staatskapelle Dresden. He will then have four Chopin ballades recorded in Berlin.
Vice President of Deutsche Grammophon Ute Fesquet, present at the press conference, lauded the young pianist as a "musician who approaches music with great dignity and dedication, and who reaches out to get the best possible results."
"When you listen to him, you can realize that his playing has incredible poetry, tenderness and delicacy. I'm sure that his Chopin language can speak to people, whether or not they're knowledgeable about the music they listen to, or whether they're just enjoying it. If he continues with his passion for music, Cho will reach much bigger audiences around the world for sure," she said.
Cho has travelled around the world to hold a series of concerts over the past few months. Just a day before landing in Seoul, he completed a gala concert in Sapporo, Japan.
– There must have been many changes in your life since winning the Chopin competition last year. In particular, here in Korea we can see a surge of interest in classical music.
Going for a competition is always nerve-racking and stressful. For that reason, I don't like attending competitions that much. My longtime dreams are to become a concert pianist, a pianist who performs mainly across the U.S. and Europe.
Competitions, however, can give young, promising pianists who have dreams, such as I do, many opportunities to seize their goals. That's why I tried that competition.
After I won, I was amazed by the support and interest I suddenly got from fans, much more than I expected. I feel a greater sense of responsibility now, that I must do better.
I'm not sure whether it's just me that has spurred such growing interest in classical music, as some people say, but it's always good news to hear for musicians like me. I'm so happy for that and I hope to see continuous support and interest in classical music.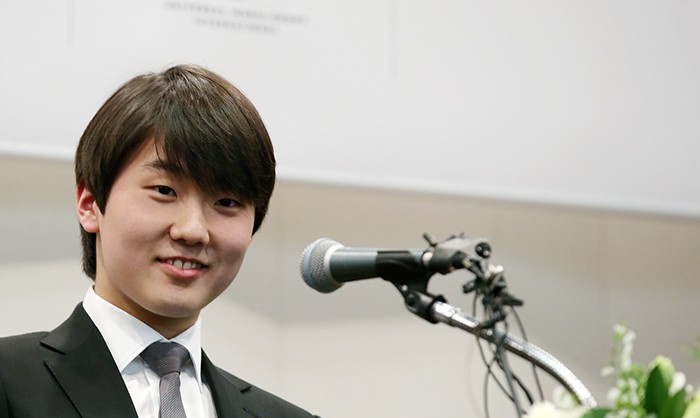 – We'd like to know more about the human side of Seong-jin Cho. Tell us how you fell in love with the piano.
When I was young, I started playing the violin at first. I enjoyed listening to classical music from a young age. When I played the violin, I had to stand up all the time. However, playing the piano, I didn't need to stand up. My parents aren't musicians or musically talented at all. Mind you, though they don't have anything to do with music, they remained supportive of me ever since I decided to take this path. What I really appreciate is that they always trusted me.
– Are there any special ways for you to stick to practicing?
I have no special way. I just tried to deeply understand and study Chopin's music. I listened to lots of renditions of Chopin, performed by many great performers, too.
– You're going to perform here at home for the first time since you won the competition. How're you feeling? Please tell us what a great pianist should be like.
You should retain the same attitude on stage, whether it be small or big. I feel really nervous holding my first concert here since winning the competition. People who I consider to be a "great pianist" should know how to put on a precious and valuable performance. When performing music, the musician should work on it with great care and seriousness. Since these are masterpieces that we know were completed only after many endeavors and agonies, we must take each song quite seriously. Only musicians who have that kind of attitude and mindset are qualified to be called a "great musician," I feel.
– Chopin's pieces are often regarded as some of the most demanding pieces in a repertoire. Do you agree?
Yes, indeed! His music is really difficult to deal with and can be seen and interpreted in different ways, depending on who's listening. Some people think of Chopin as being romantic, while others think of him as being academic. Such differences gave me troubles in deciding what would be an ideal way to interpret his music. I wasn't sure about the way in which I digested his music. When I was preparing for the Chopin competition, I spent quite a lot of time practicing and learning Chopin pieces more deeply. I soon found my own way to understand his music and brought his notes across the keyboard in my own way. The more I was involved in his music, the deeper my understanding of it became. When you repeat the same repertoire, you're more likely to fall into certain mannerisms. So, to avoid that, I always tried to give a new breath of fresh air to my interpretations of his music.
– Finally, who's your role model?
I don't look to any one person as a role model. I want to carve my way myself. One of my favorites is Romanian concert pianist Radu Lupu, but I don't call him a role model. He does a whole different style of music from me. It's true that I look up to him, but I think we go our separate ways when it comes to musical styles. If I took on his style just because I liked him, it would definitely be unnatural for me. That's why I don't have any role model, per se.
By Sohn JiAe
Korea.net Staff Writer
Photos: Jeon Han
[email protected]