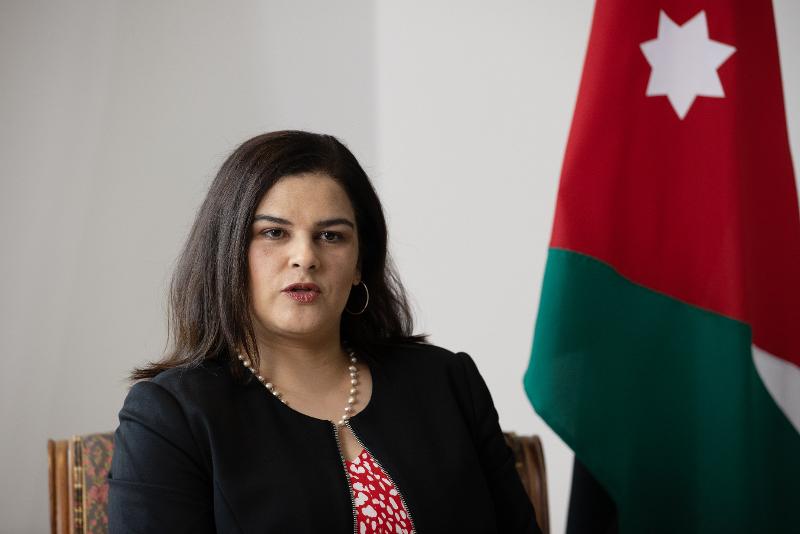 By Yoo Yeon Gyeong and Israa Mohamed
Video = Lee Jun Young
"The charm of Korean culture lies in its harmony between the traditional and contemporary."
So said Jordanian Ambassador to Korea Asal Al Tal on Oct. 13 in an exclusive interview with Korea.net at her embassy in Seoul's Yongsan-gu District. "Korea has a long history but at the same time has achieved astonishing technological development and innovation," she added.
The diplomat said she wants to keep learning about Korean culture, which she said combines the traditional and contemporary. She added that staying at a Hanok (traditional Korean house) was her most enjoyable experience during approximately two years of living in Korea. "Returning into the arms of nature and experiencing the traditional Korean living style was something I'd never done before and very special," she said.
In April, she presented her credentials to the Korean government as the third Jordanian ambassador to Korea. Having previously held high posts at the Jordanian Ministry of Foreign Affairs and Expatriates, she began her foreign service career in 1999 and has worked at embassies in the U.S., Switzerland and Belgium.
Assigned to the embassy in Seoul in September 2020, she served as deputy chief of mission and was named charge d'affaires in August 2021. She also holds the distinction of being the first female ambassador to Korea from an Arab country.
Excerpts from Korea.net's interview with the ambassador to mark the 60th anniversary of bilateral ties are below.
This year marks the 60th anniversary of bilateral ties. What do you consider the most important achievement in the relationship since it was formed in 1962?
We are proud of the special relationship between Jordan and Korea, something that has reached the level of a partnership. This is an extremely important relationship. Reflecting on the past 60 years, we have seen great accomplishments. King Abdullah II has visited Korea five times. We have concluded about 30 agreements and programs in sectors such as politics, economy, trade, academics, education, culture, sports and parliamentary diplomacy. This shows the strength and importance of the bilateral relationship.
In what sectors do you wish for bilateral relations to expand and or strengthen?
The two countries are seeking cooperation in promising next-generation sectors such as tourism, investment, advanced agricultural technology, renewable energy, artificial intelligence and health. I am proud of such efforts and expect noticeable results over the next few years.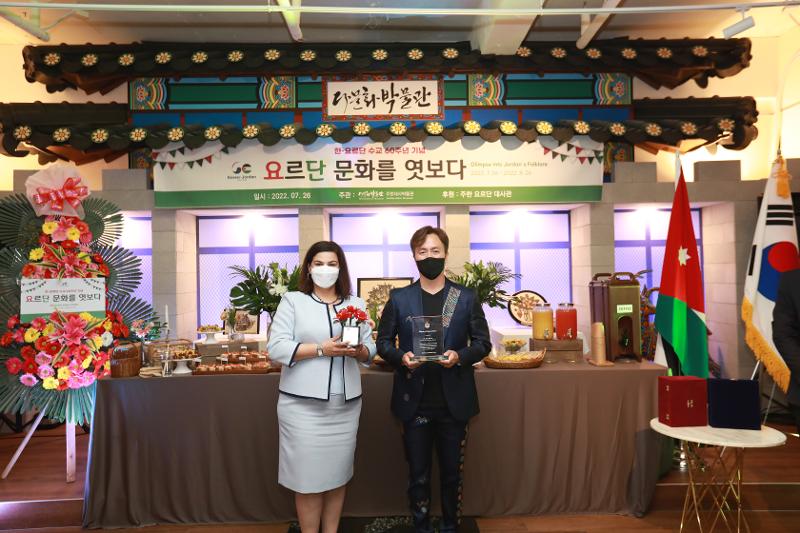 In what sector does Jordan need to cooperate with Korea the most to implement its Green Growth National Action Plans 2021-25?
King Abdullah II attended the 2021 P4G (Partnering for Green Growth and the Global Goals 2030) Seoul Summit through videoconferencing. He encouraged the setup of private green partnerships in sectors such as food, agriculture, water, energy, urbanization and circular economy. Jordan is closely cooperating with the Global Green Growth Institute in Seoul and Green Climate Fund, whose headquarters is in Incheon. The development aid that the Korean government provides to Jordan is of great help in sustaining green development projects through relevant organizations such as the Korea International Cooperation Agency (KOICA).
How would you assess the potential for bilateral cooperation and exchange in health and medicine, including policy for disabled people?
First, I want to thank the Korean government for supporting the establishment of a school for the hearing impaired in Jordan's capital of Amman through KOICA. Jordan is interested in utilizing Korea's pioneering experience vis-a-vis people with disabilities. We are also particularly interested in the Korean experience of reincorporating into society disabled people who have left welfare facilities. We are working with the Korean Ministry of Health and Welfare and Korea Disabled People's Development Institute to focus on the development of bilateral cooperation in health. Work is underway toward the conclusion of new memorandums of understanding (MOUs). I think the MOUs will be concluded soon.
How do you view the worldwide popularity of Korean content and Jordan's recognition as a global filming venue?
I am glad to hear that Korean movies and dramas are being filmed in Jordan. The popularity of Korean culture and Hallyu (Korean Wave) in Jordan is intense. There is also high interest in other Korean cultural content. I know that Korean movies have been filmed in several places in Jordan. I think this is a good opportunity to introduce to Koreans wonderful Jordanian tourist sites such as Wadi Rum and Petra. Jordan is easing quarantine regulations and preparing to greet Korean tourists. We offer many opportunities for people of all ages to enjoy in fields such as religion, history, adventure and medical service. I hope that Koreans visit Jordan and learn more about these places.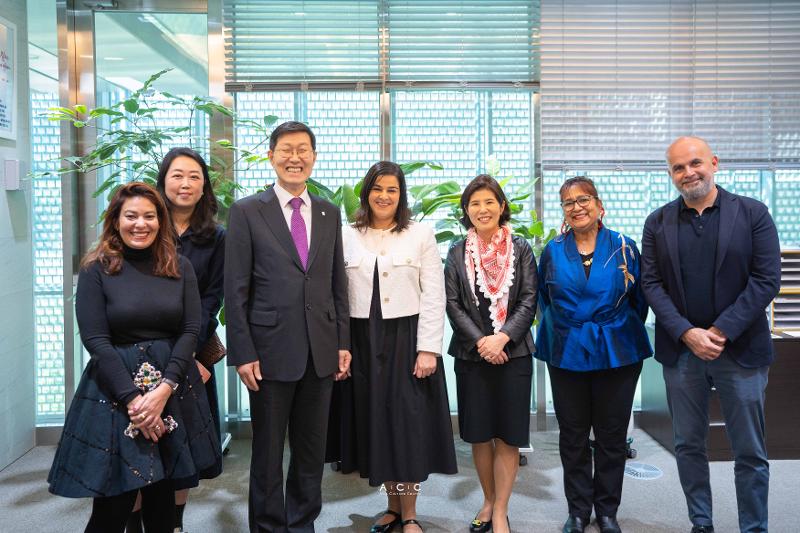 The University of Jordan in 2007 opened a Korean-language department, and many of its outstanding graduates are working in Korea in fields like translation. How is the department today?
Jordanian students are growing more interested in studying Korean. Between 160 and 180 of them study the language every year, and the number continues to increase. This can be attributed to high interest in Hallyu and Korean culture overall. I think they can find jobs as translators or at Korean corporations if they study Korean.
What was your impression of the online awards ceremony on Aug. 18 for an inaugural translation contest for Korean-Arab picture books?
More Arab students, including those from Jordan, applied than expected. The Jordanian award winner translated the Korean children's book "Classical Scholar-turned-Book Lee Deok-mu" (unofficial translation) and I recently started reading it. Translation is a means of sharing culture and experience in a time of history. Through this, we can enrich civilizations and cooperate. I believe that the translation contest was a meaningful and wonderful opportunity.
How has your life been since you moved to Korea in September 2020?
What I like most about Korea is natural landscapes throughout the country. I've visited many places because I like beautiful scenery. I normally stroll around the beautiful city of Seoul. I'm learning Korean, and I like Korean food because of the taste. I especially like Korean-style barbecue and fried chicken.
What part of Korean culture that you've experienced in Korea do you hope Arabs get to know?
I'm really happy and glad when seeing exchanges between the people of Jordan and Korea. I think it's extremely important that the people of both countries continue to cooperate and interact. Jordan is hosting Korean cultural performances and Seoul a Jordanian cultural exhibition. Such cultural exchanges will offer special opportunities for both countries to get to know each other. I want to say the civilizations of both countries are in contact with each other and mutual exchanges are expanding.
As a representative for Arab women, what would you like to say to Korea.net readers?
Jordan has eight female ambassadors and I'm proud to be one of them. I thank Korea.net readers for their interest in this interview and Jordanian culture. I also thank Korea.net for arranging this interview to mark the 60th anniversary of Korea-Jordan ties.
dusrud21@korea.kr