Thirteen groups of university students from around the world were brought together in Korea for a series of presentations and discussions about Korean art, literature and history.
The annual "Exploring Korean Humanities Together" competition is hosted by the Korean Culture and Information Service (KOCIS), publisher of Korea.net, and Arirang TV. It was held on July 4 and 5 this year at the Jecheon Cheongpung Resort in Jecheon, Chungcheongbuk-do (North Chungcheong Province). This year's theme was historic figures in Korean history. The 13 teams of finalists comprised of students from various backgrounds. They gave a series of presentations on the research that they've been carrying out over the past three months. The presentations were adequate enough to offer the public a glimpse into the affection and interest they have for Korean history, art and literature.
Some of the participants shared with Korea.net their stories about how they got onto the team, how they developed their interest in Korean humanities and much more.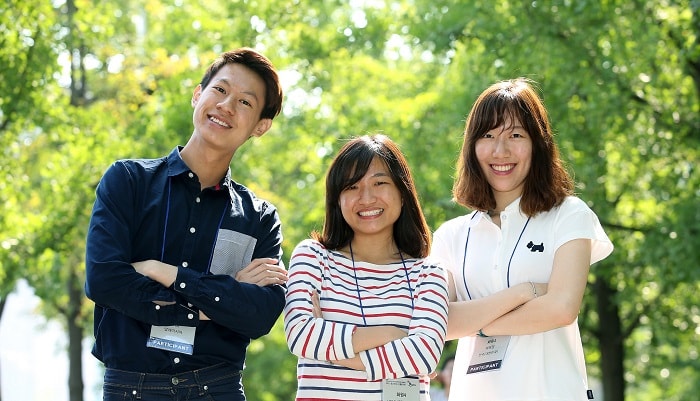 Kevin Wong Wai Hoong, Malaysia, Seoul National University
Your team chose to look into the life of painter Kim Hong-do (김홍도, 金弘道) (1745-1806). What made you develop an interest in the painter?
During my spare time, I very much enjoy reading. One day when I was at the library, I found a very popular book called "Painter of the Wind" (2007) (바람의 화원) by Lee Jeong-Myeong. It was one of the most-borrowed books in the library. The book is a historical fiction novel revolving around the lives of two Joseon painters, Kim Hong-do and Sin Yun-bok (신윤복, 申潤福) (1758-?) and their dedication to their art. After I read the book, I wanted to learn more about Kim Hong-do and Korean painting, as well.
To which specific paintings were you attracted?
There are a number of genres of artwork painted by Kim, including his Taoist and Buddhist works and his Buddhist and landscape paintings. Among them is "Ssireum" (씨름, 相撲) and "Yeombulseoseungdo" (염불서승도, 念佛西昇圖), a portrait of a Buddhist monk. The two works of art are included in my presentation. It was interesting to find messages in his painting where he tries to explain his philosophy expressed in blank space and in the hidden rules of his own. Korean painting is a genre of art by which non-Koreans can really get inspired.
How long have you been in Korea?
I came to Korea some four years ago when I was very much interested in Korean pop music. I am currently studying material engineering at Seoul National University's College of Engineering. A few years ago, I chose to study Korean history for my cultural requirement and since then I have had an interest in this nation's past. Most Korean historical texts revolve around kings and people in higher positions. I thought it would be interesting to understand society from the perspective of people in the lower classes. That's why our team chose Kim Hong-do as our subject.
What did you think about this speech competition?
Seriously, I have learned a lot. First and foremost, I realized that there is a long way to go in terms of studying Korean history. Watching the participants in the program, I was surprised at how fluently they speak Korean and how well they know the place. I need to put in a bit more effort. It was a great opportunity to meet and mingle with people from various backgrounds.
Wato Midoriko, Japan, Seongkyunkwan University
When and why did you come to Korea?
It's been over two years now. I was interested in Korean art and pop culture very much, ever since I was little. Korea and Japan are geographically close to each other, but emotionally they are very distant. They seem to share quite a lot of similarities, but there are differences, too. I want to learn more about the two nations. When I first told my parents I wanted to go to Korea to study, they worked so hard to stop me. They weren't able to persuade me.
Shiranami Chiharu, Japan, Seongkyunkwan University
Diplomat Yi Ye (1373–1445) (이예, 李藝) is not very well known, even here in Korea. How did you get an interest in him?
We were looking for a person who fell into the intersection between Korean and Japanese history. For us, the goal of the research was to come up with an innovative way to improve bilateral relations. Yi Ye was known to have visited Japan over 40 times. He was an outstanding negotiator. He was good at reading the minds of people, at understanding the perspectives of other people and at persuading others to adopt a different perspective. We agreed that he has a lot to give us in terms of an improvement in Korea-Japan relations.
What do you think is the biggest problem in Korea-Japan relations?
We discovered that many Japanese people have no real reason to dislike Korea, even though some of them claim to not like the nation. However, many Korean people claim that they have negative emotions toward all Japanese people for political and historical reasons. We agree that some Japanese people are in need of more opportunities to study history and to learn what happened between Korea and Japan. Meanwhile, for those Koreans, we wanted to give the message that there is no way to make the situation better when they only take emotional action against Japan. We would like to make a contribution to improving bilateral relations.
*For more details about the presentations, please read more at Korea.net.
http://www.korea.net/NewsFocus/Culture/view?articleId=128527
http://www.korea.net/NewsFocus/Culture/view?articleId=128535
By Wi Tack-whan, Lee Seung-ah
Photos: Jeon Han
Korea.net Staff Writers
[email protected]