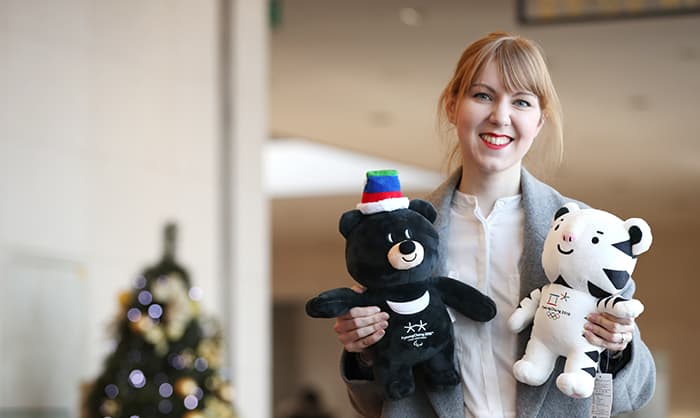 By Min Yea-Ji and Kim Young Shin 
Photos = Kim Sunjoo 
Seoul l Jan. 10, 2017
"Hand-in-hand we stand, all across the land. We can make this world a better place in which to live."
So goes the official Seoul 1988 Olympic Games song, "Hand-in-Hand," sung by the band Koreana. The lyrics of the song, which call for a peaceful world where all members of international society live hand-in-hand, regardless of their past, religion or race, was an Olympic song that won sympathy from people all around the world.
Although 30 years have passed, a Finnish woman still hums the tune to the song. This is Henna Puumala, a volunteer at the second Olympic Games to be held in Korea.
She's also the interpreter for a popular TV show, "Welcome, First Time in Korea?" (어서와~ 한국은 처음이지?), for Finnish guests.
– How do you know about the Olympic song? It was released before you were born.
I came to Kyung Hee University in 2014 as an exchange student.
During a lecture, I was watching a video related to the Seoul 1988 Olympic Games. This was the first time I heard "Hand-in-Hand." The song stayed in my head ever since. It became my best song whenever I went to a noraebangsinging room with my friends.
– When did you first realize your love for Korea?
I had a crush on Korean pop singers after seeing TVXQ in a live performance. In 2010, I travelled to Korea for the first time and that was when I fell in love with all things Korean. I decided to learn more about Korea and entered the University of Helsinki to major in Asian Studies. There were limitations on studying Korean in Finland, so I entered the Graduate School of International Studies at Ewha Womans University to learn more about Korea.
– What will be your role during the PyeongChang Olympics?
My major role is to interpret, but I'll be driving, too.
Above all, I'll work as an interpreter for the Finnish athletes and in other roles. I'm waiting for the Organizing Committee's request. I'll be heading to Pyeongchang on Jan. 24 for training. Whatever role I take, I'm happy to serve at such a huge international event.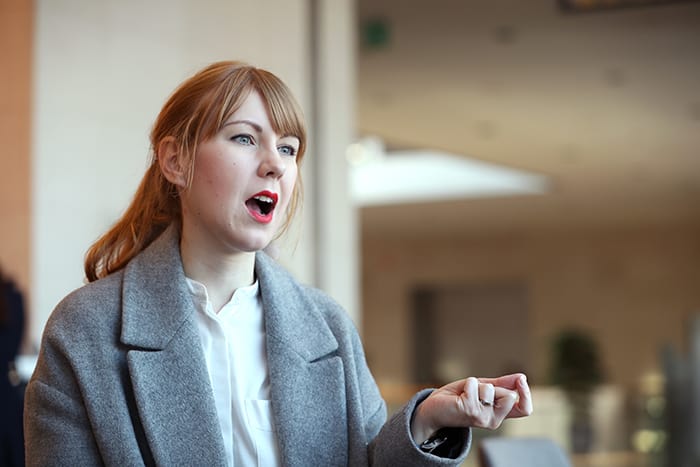 – What are the best things about Korea that you'd like to tell people about when they visit Korea for the first time?
Generally, Korea isn't well-known or recognized as a modernized country with state-of-the-art IT. However, I'd like to emphasize the fact that Korea has some beautiful landscapes and lots of tasty delights. I especially recommend travelling around Gangwon-do Province if you're visiting Korea for the upcoming Winter Games. You shouldn't miss Seoraksan Mountain or the East sea.
Also, I suggest you try Gangwon-do's potatoes and snow crab. Even people not very fond of seafood can enjoy snow crab! I'm speaking from my own experience here.
– What are your plans after the Olympics? 
I will play a small role in the PyeongChang 2018 Olympic Winter Games and I want to see how well the Games go, too. After that, I want to get a job in Korea to stay here for some time.