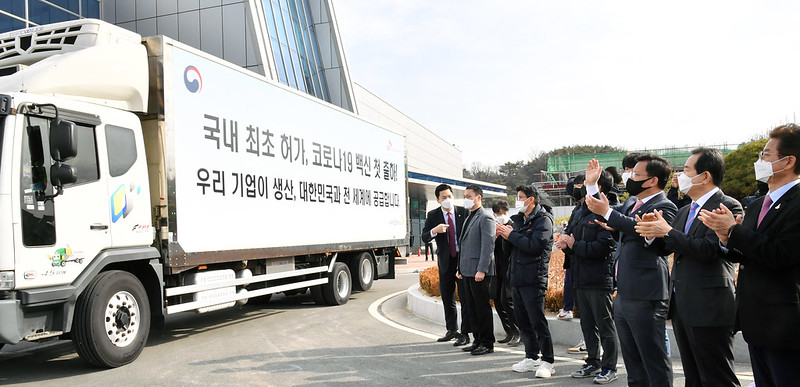 By Kim Eun-young and Lee Hana
Photos = Prime Minister's Secretariat Flickr account
The first shipment of COVID-19 vaccines in Korea arrived on Feb. 24 ahead of the country's launch this week of nationwide inoculation, coming some 13 months after the first domestic case of the coronavirus was detected.
The shipment of AstraZeneca vaccines, manufactured in Andong, Gyeongsangbuk-do Province, by pharmaceutical manufacturer SK Bioscience Co. under a partnership deal, contained enough doses for 150,000 people out of the total 780,000 slated to get the AstraZeneca vaccine.
The first batch will pass through distribution centers before arriving at health centers and nursing hospitals across the country. Vaccinations will begin on Feb. 26 for front-line medical workers as well as people under age 65.
"This is the first time for us to supply the public with the completed AstraZeneca vaccine, marking the first step of our long-awaited return to normal life," Prime Minister Chung Sye-kyun told a meeting of the Central Disaster and Safety Countermeasures Headquarters at Gyeongsangbuk-do Provincial Office in Andong.
He added that the government was thoroughly preparing for each step of the vaccination process including transportation, distribution, inoculation and management of side effects to ensure public safety in vaccinations.
Earlier on Feb. 19, the prime minister said in a BBC interview that the goal is "to complete the first set of vaccinations on 70% of our population by the end of the third quarter in September," adding that "if indeed herd immunity is achieved when 70% are inoculated — then by this fall Koreans may have their normal life back."