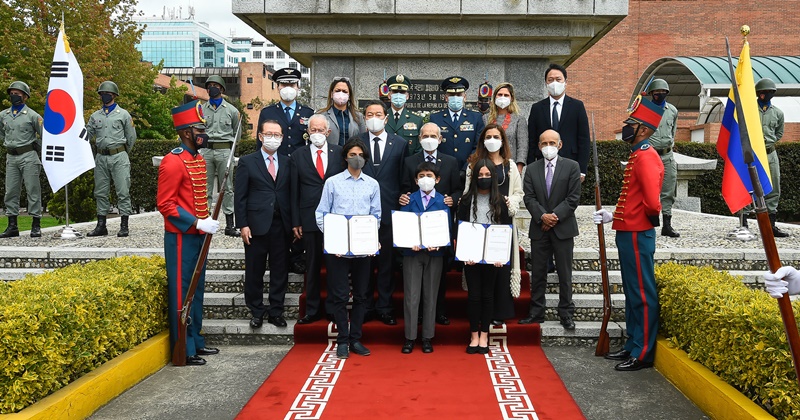 By Oh Hyun Woo and Lee Hana
Two Colombian veterans of the Korean War (1950-53) will visit Korea for the first time in 69 years.
Guillermo Rodriguez Guzman, 91, president of the Colombian Association of Korean Veteran Officers (ASOVECOR), and Alvaro Lozano Charry, 87, president of the Colombian Association of Veterans of the Korean War (ASCOVE), will make their trip at the invitation of the Korean Ministry of Patriots and Veterans Affairs.
Rodriguez served from January to December 1952 as a platoon commander of the Colombian dispatch battalion. Lozano was sent as a soldier in December that year and fought in the battles of Hill 180 and Old Baldy in 1953.
Both veterans on Aug. 24 will visit Cheorwon Peace Observatory, which has a panoramic view of the Demilitarized Zone separating the two Koreas, in Cheorwon-gun County, Gangwon-do Province. The next day, they will meet Korean veterans of the war at Seoul National Cemetery and attend a state banquet in the evening.
Colombia was the only Latin American country to send combat units to the conflict. Of the country's 5,100 soldiers who took part, 213 were killed in action and 448 sustained injuries.
"The war veterans' visit to Korea will be carried out under strict quarantine measures given the COVID-19 situation," a ministry source said. "We will continue organizing international events for veterans to remember and thank those who devoted their lives to the Korean War."