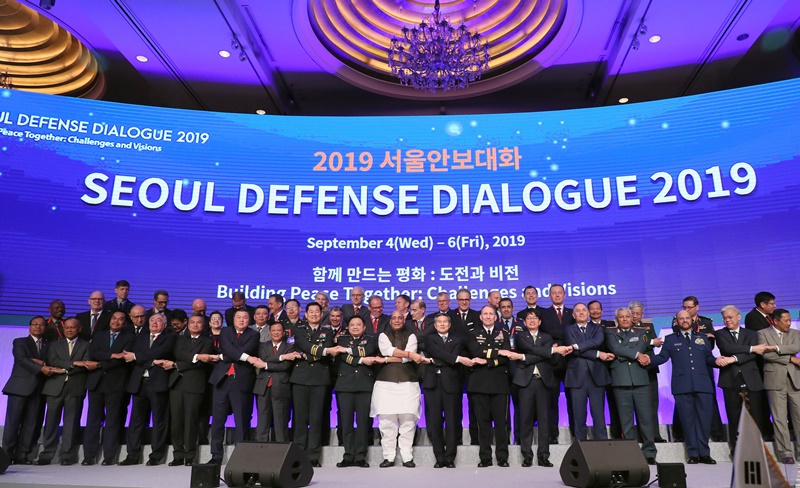 By Oh Hyun Woo and Kim Hwaya
The Seoul Defense Dialogue, an annual international security forum hosted by the Ministry of National Defense, on Sept. 5 held its opening ceremony to start its four plenary sessions.
Marking its eighth anniversary this year, the three-day forum is being held under the theme "Building Peace Together: Challenges and Visions."
High-level officials and civil security experts from around 50 countries in Europe, the Middle East and Africa will discuss international security issues such as the overall development of the peace process on the Korean Peninsula and improvement in Northeast Asia's security environment.
In his opening speech, Defense Minister Jeong Kyeong-doo mentioned the recent conflict on the peninsula with surrounding powers China, Japan and Russia, saying, "Each country should build bilateral trust through conversation and share their vision for security cooperation."
"Tensions of the international community must be eased through full compliance with globally established regulations and mutual adjustment of interests and conflicts," he added. "The Republic of Korea will surely achieve peace on the Korean Peninsula based on its 'strong power' and contribute to the peace and prosperity of Northeast Asia and the world."
In his congratulatory speech, Prime Minister Lee Nak-yon asked for global understanding of and cooperation in his government's efforts to denuclearize North Korea.
Mentioning the establishment of an inter-Korean liaison office and work to build the foundation for reconnecting railways on the peninsula, he said, "Peace has been found on the Korean Peninsula but remains incomplete and temporary, thus the task is to establish a permanent peace."
The themes of the four plenary sessions are "Peace Process on the Korean Peninsula and International Cooperation," "Peace in Northeast Asia: Challenges and Tasks," "International Peacekeeping Operations and Humanitarian Assistance" and "National Strategy and Crisis Management in Cyberspace."
The Defense Ministry will also hold bilateral talks with 20 countries participating in the forum on security issues and cooperation in the defense industry.