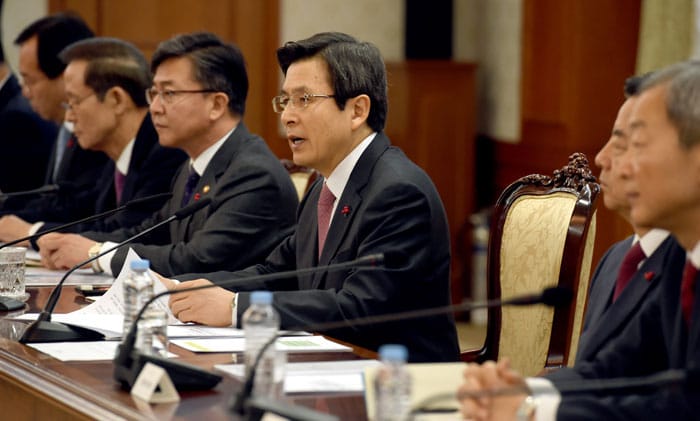 A meeting was held at the Government Complex-Seoul on Jan. 16 to review changes and challenges surrounding the Korean Peninsula and to discuss future policy directions for Seoul's diplomacy and security.
The meeting was attended by Korean ambassadors to close neighbor-countries, such as the U.S., China, Japan, Russia, and to the U.N., to discuss North Korea and North Korean nuclear weapons issues, and to talk about Seoul's cooperation with Washington's incoming administration. Participants also shared their views on Korea's ties with China, Japan and Russia.
Meeting participants agreed to actively manage the ongoing changes and challenges taking place in the diplomacy and security environment. To do so, they agreed to keep a close eye on diplomatic policies emanating from the new U.S. administration, and the overall political situation across Northeast Asia. They also agreed to strengthen cooperation and exchanges with neighboring countries in order to achieve stable development in their relationships. Based on the Seoul-Washington alliance, they plan to develop Korea's ties with its neighbors in a strategic manner. Korea will work to develop ties with other countries, too, in order to bolster its role and position across the region, while using the trilateral relationships involving Seoul, Washington and Tokyo, and that of Seoul, Tokyo and Beijing, to full effect.
In regard to North Korean issues, including its nuclear weapons program, meeting participants agreed that Korea should bolster cooperation with the U.S., China and Russia, and that it should prepare for the possibility of a provocation from Pyongyang, all while centering on existing U.N. Security Council Resolution and sanctions, sanctions posed by individual countries, and other levers of global pressure. Regarding North Korean human rights issues, they agreed to strengthen cooperation with the U.N. and with the U.N. Security Council.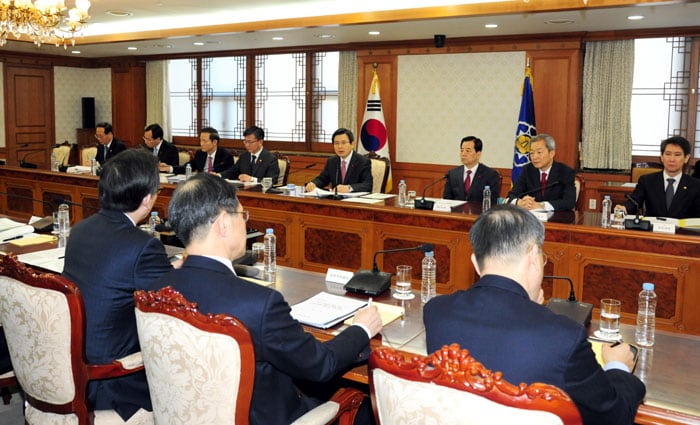 Meeting participants also discussed pending issues related to Korea's neighboring countries. In regard to the Seoul-Beijing relationship, participants agreed that Korea should continue to develop its ties with China, as it is a strategic cooperation partner, and enhance exchanges and cooperation, too, all while adhering to the principles involved with national security issues.
As for Korea-Japan ties, they agreed to work together on the development of the bilateral relationship, while respecting the initial goals and spirits of the recent resolution concerning the so-called "comfort women."
Regarding Seoul-Moscow ties, participants vowed to seek out the stable development of relationships and to enhance communication, and to firm up mutual trust, all while expanding cooperation, especially in the Far East.
Acting President Hwang Kyo-ahn who presided over the meeting said, "We should strive for the denuclearization of North Korea by capitalizing on the current framework of across-the-board diplomatic pressure," while mentioning instability on the Korean Peninsula due to Pyongyang's dangerous nuclear weapons and missiles, and the growing possibility of strategic provocations and threats during the transition of the U.S. administration.
Regarding North Korean human rights, he said, "Improving North Korean human rights is not only a matter of universal values, but also a core task that needs to be solved for the future of the united Korean Peninsula."
"We should continue to closely cooperate with the U.N. and neighboring countries in this regard," he added.
By Yoon Sojung
Korea.net Staff Writer
Photos: Prime Minister's Office
[email protected]