With the inaugural Korea-Mekong Summit between Korea and the five countries along the Mekong River – Cambodia, Laos, Myanmar, Thailand and Vietnam — and the Korea-ASEAN (Association of Southeast Asian Nations) special summit coming up in November in Busan, Korea.net explores the results of President Moon Jae-in's visits to all 10 ASEAN member countries since his inauguration, Korea's exchanges with these nations and the potential for economic cooperation.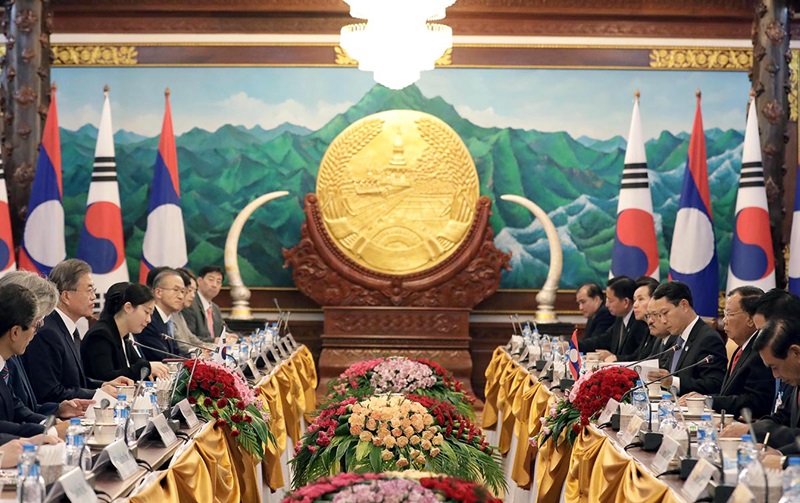 By Kim Young Deok and Lee Jihae
Photos = Cheong Wa Dae
Korea and Laos have steadily expanded cooperation in politics, economy and society through people-to-people exchanges since the two countries restored diplomatic relations in 1995 (the two nations had severed ties in 1975).
This month, President Moon became the first Korean leader to pay a state visit to Laos, where he laid out plans to boost future-oriented bilateral ties and cemented Korea's cooperation with member countries of the Association of Southeast Asian Nations (ASEAN) and the five nations surrounding the Mekong River.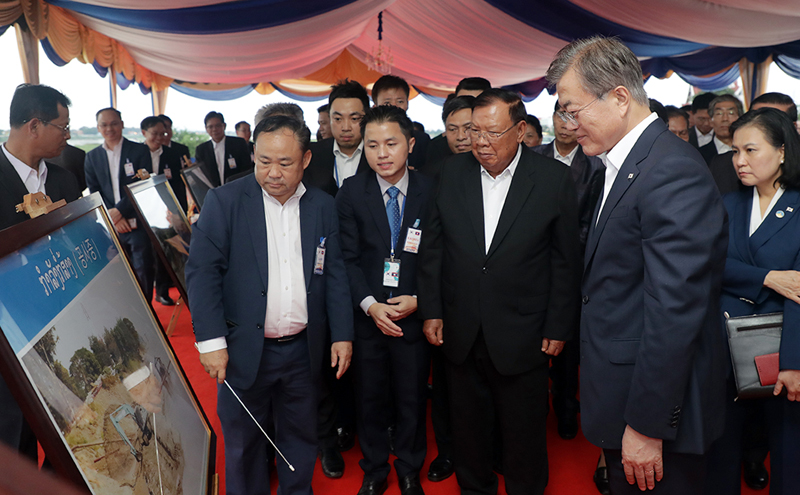 Laos: "ASEAN's logistics hub and battery"
He called Laos "ASEAN's logistics hub and battery" and praised its "great" growth potential. The Southeast Asian nation had the highest economic growth in the region in 2017 with 6.9%, and the longest portion of the Mekong runs through Laos.
Korea's cooperation with the water resource-rich country has seen tangible results, one of which is a maintenance project in areas around the river. Launched in 2009, the venture has prevented floods, stabilized national borders, spurred a Korean corporate advance into Laos, and made social and economic contributions to Vientiane.
The project began with USD 48 million from Korea's Economic Development Cooperation Fund and has expanded in scale every year. President Moon signed in September an agreement with Laos on expanding the project with USD 500 million from 2020-23.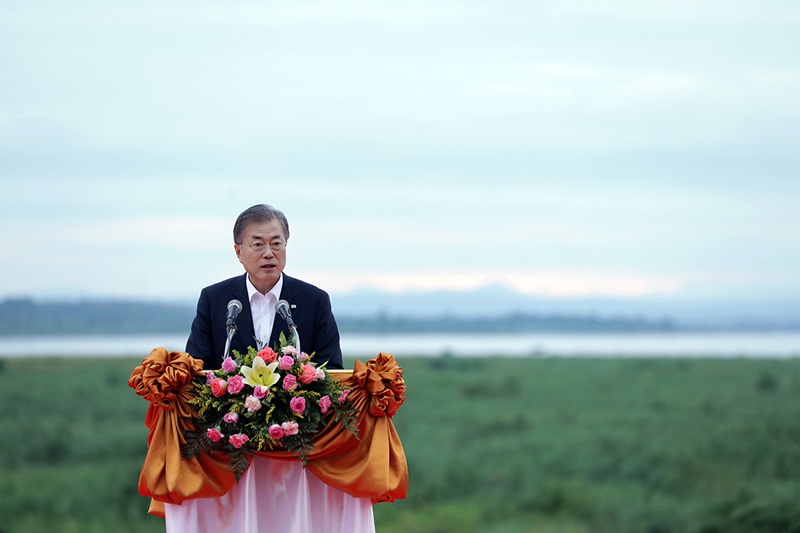 Announcement of Korea-Mekong Vision
President Moon emphasized Laos's significant role in his so-called Korea-Mekong Vision, which aims for symbiotic growth with the five Mekong countries. The plan is to utilize the river's resources for rural development and green growth.
Cooperation with Laos in rural development is a crucial part of the vision. The fertile soil in the area surrounding the Mekong makes the region suitable for agricultural growth.
Lao Prime Minister Thongloun Sisoulith told President Moon that Laos is aiming to carry out agricultural policy based on the Korean model of agricultural development.
President Moon also signed in Laos a memorandum of understanding on bilateral agricultural cooperation that paved the way for two-way collaboration such as exchanging agricultural policies, boosting private investments and forming an agricultural cooperation committee.
Hopes are high that Korea through the two upcoming summits in Busan can hold in-depth discussions on the Mekong vision and boost Korea's corporate advance into Laos.