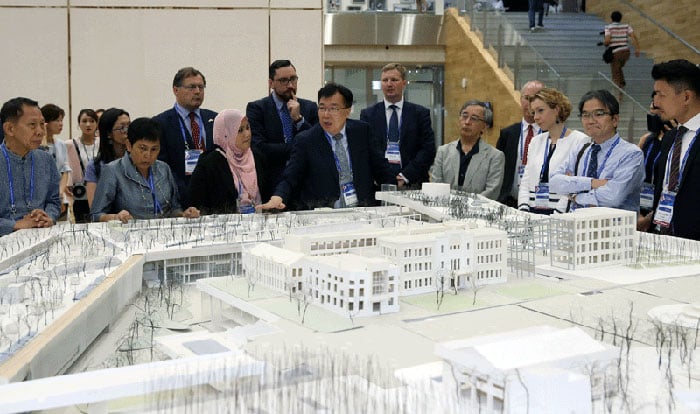 Ministers and vice ministers from 44 Asia-Europe Meeting (ASEM) countries have gathered in Gwangju, with representatives from the EU and ASEAN also joining the gathering. They will participate in the seventh Asia-Europe Culture Ministers' Meeting that will take place from June 22 to 24 at the Asia Culture Center (ACC) in Gwangju where they will discuss cooperation on the arts and media and on the creative industries.
Government representatives held the senior officials meeting on June 22, one day ahead of the official opening of the meeting, where they set meeting agendas and did some overall preparation for the event. They inspected the main venue, the ACC, and reviewed the content of the Declaration of Chairs Statement that will be announced by Minister of Culture, Sports and Tourism Kim Jongdeok on June 24.
During the Asia-Europe Foundation (ASEF) Policy Panel, experts from around the globe discussed ways to diversify cultural content and boost exchanges and cooperation on culture and the creative economy between Asian and European countries. They also shared successful experiences from Asia and Europe in this regard.
The seventh Asia-Europe Culture Ministers' Meeting will officially commence on June 23 with an opening ceremony. Representatives from the participating governments will hold discussions on the main theme, "Culture and Creative Economy," and other related themes, such as the "Future of Information and Communications Technology (ICT) and the Creative Industries," "Traditional Cultural Heritage and the Creative Economy" and "International Cooperation for Vitalizing the Creative Industries."
By Yoon Sojung
Korea.net Staff Writer
Photo: Jeon Han Korea.net Photographer, Ministry of Culture, Sports and Tourism
[email protected]