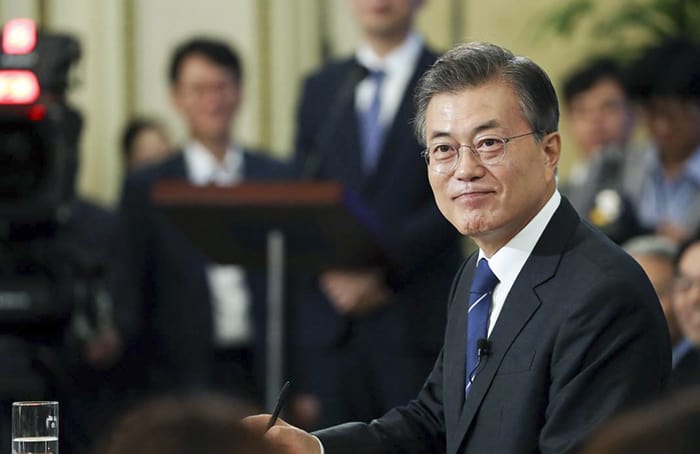 By Yoon Sojung
Cheong Wa Dae released a video of an interview of President Moon Jae-in to celebrate his first 100 days in office, at its homepage and social media channels on Aug. 18.
"100 days of President Moon Jae-in, a Small Interview" has President Moon looking back on the past 100 days, expressing his impressions of his time so far in office. He also talks about his new life as president and his belief in open communication.
When asked about the best moments since taking office, President Moon said, "I was very happy to sing 'March for the Beloved' (임을 위한 행진곡) together at the ceremony to mark the May 18 Democratic Movement."
Other thankful moments President Moon mentioned include when he invited patriots, war veterans and their family members to Cheong Wa Dae, and when ethnic Koreans and local residents alike welcomed him with cheers and banners during his visits to the U.S. and Germany.
Regarding the welcome he received from non-Koreans during his overseas trips, President Moon said, "I felt that their welcome showed respect for Korea, as our country has successfully completed regime change through a constitutional, democratic procedure, including the 'Candlelight Revolution,' and 'the impeachment of a president.'"
In the video, President Moon talks about his daily routine at Cheong Wa Dae.
The president said that office hours actually have no meaning, as he still has to review many reports after formal work hours. However, he said he loves strolling inside the presidential residence with his pets — his dogs Maru and Tory, and his cat Jjingjjing — and watching the news with Jjingjjing.
When asked about his sleeping hours, he said jokingly, "I wonder whether or not the time the president gets up is a state secret? Anyway, I do get enough sleep."
"All the staff at Cheong Wa Dae have been working really hard, as we had to take office right after the presidential election," said the president.
"I would like to extend words of comfort to all the Cheong Wa Dae staffers who are having a hard time of it," he added.
The video also showed President Moon's faith in open communication.
President Moon said, "In the past, politics in Korea were too far from the people. From now on, though, Cheong Wa Dae and myself will take the lead to communicate openly with the people."
"Whether online or offline, we will communicate with the people in all possible ways."
"We won't just focus on promoting government policies. Instead, we hope to listen to the voices of the people in order to reflect those voices in our policies," he said.
If you can't see the video here, click the url the URL below.
https://youtu.be/VDnmPbirrVc