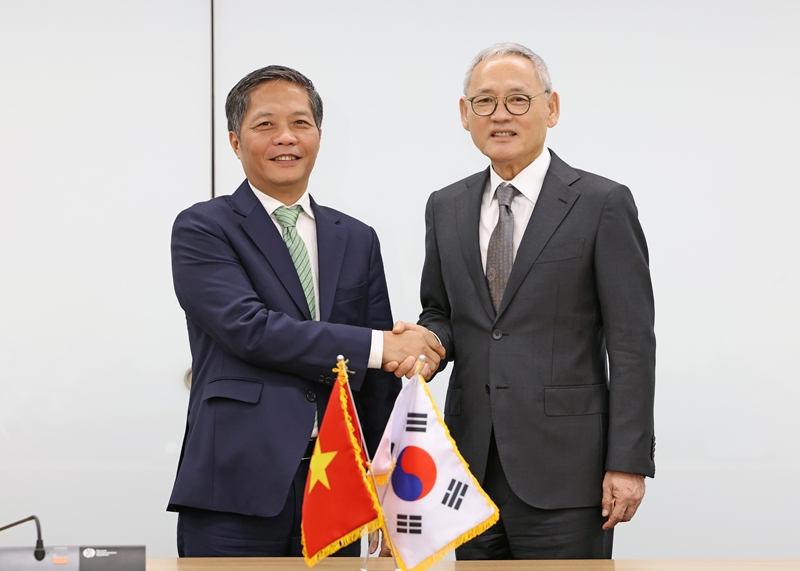 By Koh Hyunjeong

Minister of Culture, Sports and Tourism Yu In-chon on Oct. 23 hosted talks with Tran Tuan Anh, chairman of the Economic Commission of Vietnam's Party Central Committee, at the National Museum of Modern and Contemporary Art Seoul in the capital's Jongno-gu District on reinforcing bilateral cooperation in culture, tourism and sports.

In their talks, both officials decided to promote mutual exchanges in content including joint workshops and productions and discuss official development assistance for human resource development to share Korea's experience in developing its cultural industry to revitalize Vietnam's sector.

Minister Yu urged more Vietnamese interest and cooperation in the K-Tourism Roadshow slated in Hanoi in the first half of next year on the occasion of Visit Korea Year 2023-24. In sports, the two sides agreed to continue human exchange by sending leading Korean figures and holding joint training between national athletes of both countries.
"Korea and Vietnam will boost exchanges and cooperation in various sectors like content, tourism and sports and find ways to grow together," Minister Yu said.
Chairman Anh added, "I expect both countries to expand the horizons of their relations through this strengthened cooperation in culture."
Thanks to high demand for and consumption of Hallyu including K-pop, Vietnam has the highest interest in Southeast Asia for traveling to Korea. The Ministry of Culture, Sports and Tourism expects Chairman Anh's visit to pave the way for a wider range of cultural and tourism exchanges.
hjkoh@korea.kr