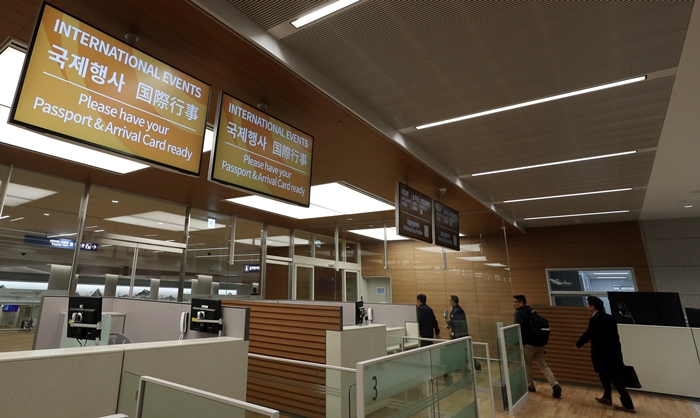 By Park Hye Ri and Lee Hana
The nationals of 11 Southeast and South Asian countries from Dec. 3 can apply for multiple-entry visas for short-term visits to Korea.
The decision is part of the Moon administration's implementation of its New Southern Policy aimed at bolstering Korea's relations with member states of the Association of Southeast Asian Nations (ASEAN) and countries in the Indian subcontinent.
The Korean Ministry of Justice designated Myanmar, Cambodia, Sri Lanka, Indonesia, Laos, Nepal, Pakistan, the Philippines, Vietnam, India and Bangladesh for the new visa program.
Citizens of these countries can visit Korea on a C-3 visa, which is open to highly skilled professionals such as doctors, lawyers and professors as well as those possessing a bachelor's from Korea or a master's from overseas. The visa is valid for up to 10 years.
A ministry source said, "The number of visitors going to and from Korea and countries targeted by the New Southern Policy is expected to hit a record 10 million this year. The number of tourists visiting Korea this year has risen 13.8 percent from the previous year based on data collected through October."
A boom in the popularity of Hallyu (the Korean Wave) also prompted the ministry to grant residents of major Vietnamese cities short-term, multiple-entry visas to Korea valid for up to five years. The ministry said Hallyu has swept Vietnamese urban hubs like Hanoi, Ho Chi Minh City and Da Nang, and thus Seoul seeks to make visits to Korea by tourists from these cities easier.
Korean Ambassador to Vietnam Kim Do-hyon said, "Vietnam is the first country in Southeast Asia to receive the five-year, multiple-entry visa. I think Vietnam's love for their national soccer coach, Park Hang-seo, has been instrumental in passing the new regulation."
The ministry said it hopes to boost cultural and human exchanges with Southeast and South Asian countries through a more streamlined visa policy.
hrhr@korea.kr