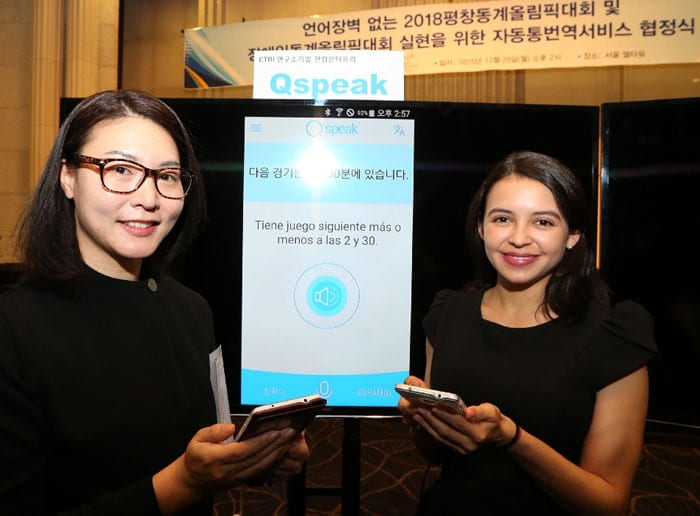 The PyeongChang Winter Olympics and Paralympics are now likely to be language barrier-free international sporting events.
In order to cooperate on the development of translation and interpretation (T&I) technologies, a memorandum of understanding (MOU) was signed on Dec. 28 involving the Ministry of Culture, Sports and Tourism, the Ministry of Science, ICT and Future Planning and the PyeongChang Organizing Committee for the 2018 Olympic & Paralympic Winter Games.
Under the agreement, the three organizations will work together to develop an automatic interpretation and translation service that would operate between Korean and seven other languages: English, Mandarin, Japanese, French, Spanish, German and Russian.
The service will be available across two platforms: one, through a special smartphone app, and the other through a dedicated physical device. In order to log in to the gigabyte-sized Wi-Fi server, a user simply needs to download the interpretation and translation app. Alternatively, a user can use a special device that plugs into a smartphone. With this latter device, people can use real-time language translation services, even in an unstable network environment or where they are otherwise unable to use a normal telephone network.
The science ministry has been working on R&D for an automatic interpretation and translation technology that would work between Korean and the seven other languages. This project has involved three institutes, including the Electronics and Telecommunications Research Institute. Currently, they've completed the development of an automatic interpretation and translation service for Korean into English, into Japanese and into Mandarin, all of which the ministry made available during the 2014 Incheon Asian Games. The ministry aims to complete the development of automatic interpretation software between Korean and French and Korean and Spanish by the end of 2016, and with German and Russian by 2017.
Kim Jaewon, deputy minister for sports and tourism policy at the culture ministry, said, "This technology will be used during the PyeongChang 2018 Olympic and Paralympic Games, which will be attended by 80,000 participants, including athletes and staff from about 100 countries, IOC officials and world media. We will also provide support so that both overseas and domestic tourists can use this service."
By Yoon Sojung
Korea.net Staff Writer
Photos: Ministry of Culture, Sports, and Tourism
[email protected]