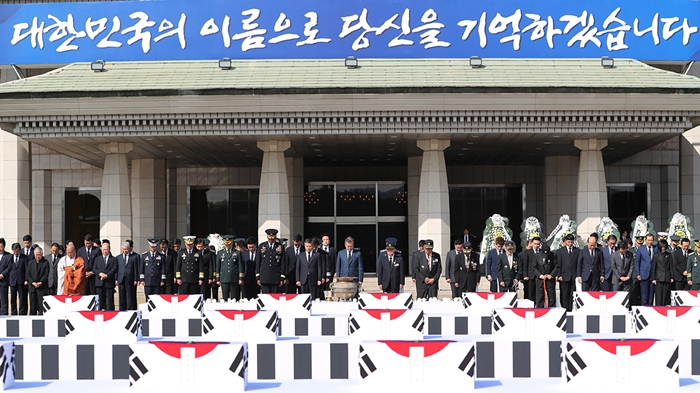 By Kim Hyelin and Kim Young Shin 
Photos = Cheong Wa Dae
After a long 68 years, the remains of 64 soldiers that passed away in North Korean territory during the Korean War (1950-1953) returned to their homeland on Oct. 1, the 70th Armed Forces Day.
A ceremony was held to commemorate the fallen heroes at Seoul Airport in Seongnam, Gyeonggi-do Province with the presence of President Moon Jae-in and other government authorities.
The 64 remains were those found during the North Korea-U.S. joint excavation conducted from 1996 to 2005 in Jangjin, Hamgyeongnam-do Province, Unsan, Pyeonganbuk-do Province and Gaecheon, Pyeongannam-do Province. They were first sent to Hawaii for identification and confirmed as South Koreans.
The ceremony, with the theme "We will remember you by the name of Republic of Korea," was attended by President Moon, Minister of National Defense Jeong Kyeongdoo, the Chiefs of Staff from the army, air force and navy, the commander of U.S. Forces Korea General Vincent Brooks, and Korean War veterans.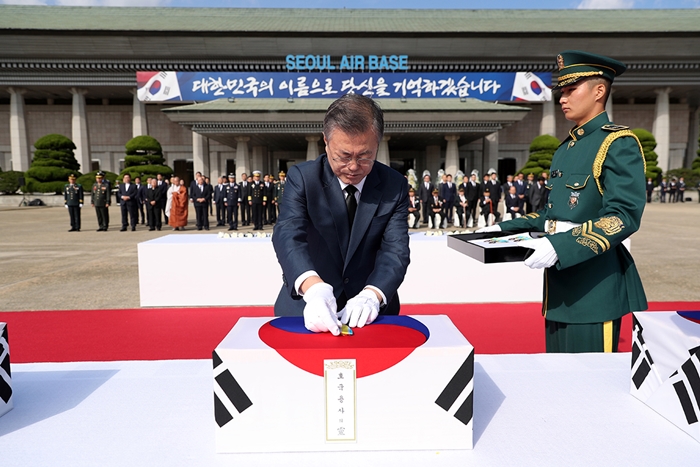 President Moon presented a war medal to each of the soldier remains on that day. In addition, the fallen patriots were honored with a silent tribute, a floral tribute and a three-volley salute.
The remains will be sent to the Agency for KIA(killed in action) Recovery & Identification under the Ministry of National Defense for further identification through detailed analysis and DNA tests. They will then be returned to the bereaved families and laid to rest at the National Cemetery.
"The return of the fallen heroes is an expression of our determination that the country should undertake the responsibility for those who sacrificed for the nation," said Vice Minister of National Defense Suh Choo-suk, who received the remains from the U.S. Defense POW/MIA Accounting Agency (DPAA) in Hawaii on September 28. "Until we properly honor the last one of our fallen patriots, we will do our best for the Korean War remains excavation project."
kimhyelin211@korea.kr