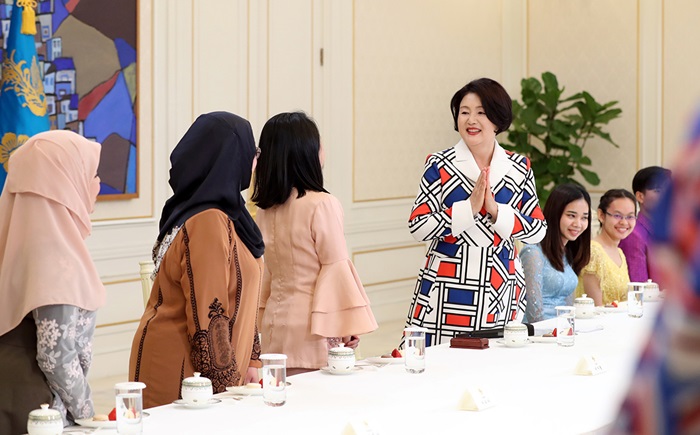 By Park Gil-ja and Lee Hana
Photos = Cheong Wa Dae
First lady Kim Jung-sook on March 6 hosted a luncheon at Cheong Wa Dae for 29 international students from Brunei, Malaysia and Cambodia ahead of President Moon Jae-in's official visits to the three countries from March 10-16.
Kim and the students watched a traditional dance performance then chatted for over an hour.
"The New Southern Policy spearheaded by the Korean government is aimed at strengthening ties between Korea and the Association of Southeast Asian Nations (ASEAN)," the first lady said, greeting the students in Arabic.
"Providing a better educational environment for international students is one of the major goals of this initiative. If all of you here can act as a bridge between Korea and your home countries, we will surely become closer as partners in the global community."
Rany Vorn, a Cambodian student studying for his doctorate in nursing at Chung-Ang University in Seoul, said, "The Korean healthcare system is really well organized, allowing patients to receive treatment at an affordable price. I'd like to take back this system to Cambodia."
"I would definitely like to act as a bridge between the two countries."