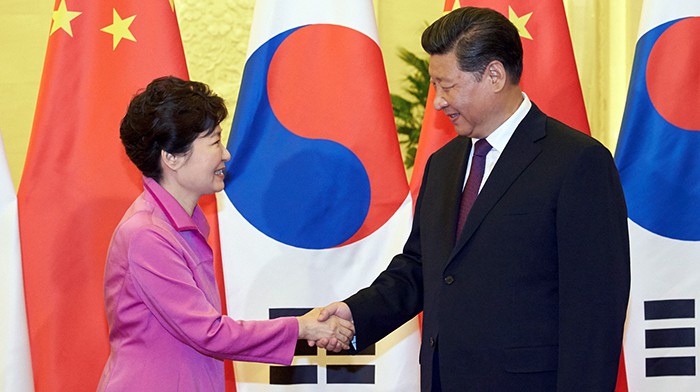 Foreign media outlets have commented on President Park Geun-hye's visit to China to attend that country's victory celebrations, dubbing her visit as the starting point of a new balanced diplomacy for Korea.
The Chinese, Japanese, U.S. and European press all analyzed the presidential visit to China and noted how the summit talks between Korean and Chinese leaders achieved great outcomes and heralded the beginning of a new balanced diplomacy for Korea, in the world of Northeast Asian diplomacy, as both leaders agreed to hold a trilateral summit among Korea, China and Japan and they requested an early resumption of the six-party talks.
In this regard, the Wall Street Journal said that the two leaders, "have discussed Korean reunification, a subject previously considered taboo by China because of the possible implication of North Korean collapse."
Japan's Mainichi Shimbun said that President Park tried to subtly maintain balance between the U.S. and China and showed her consideration for Japan while approaching China.
Regarding the proposed holding of a trilateral summit among Korea, China and Japan, Bloomberg said, "A three-way summit may ease tensions related to territorial disputes and invigorate talks on a free-trade deal between the countries, which account for a fifth of the world economy. The three are also members of six-nation talks aimed at dismantling North Korea's nuclear arms programs."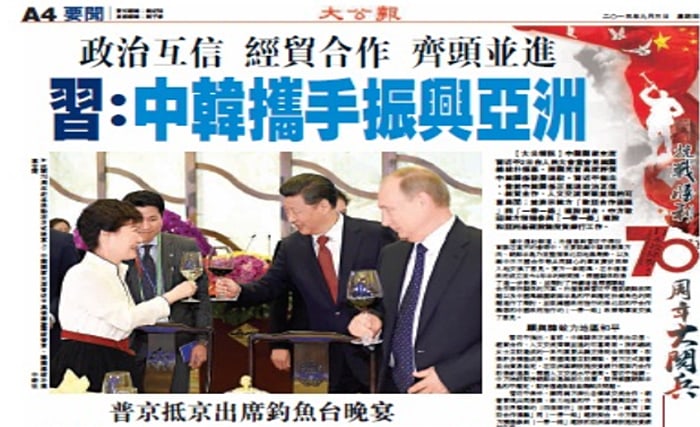 Regarding President Park's attendance at China's war victory anniversary ceremony, AFP and Japan's Yomiuri and Nikkei all valued President Park's presence, saying that it raised the credibility of the event.
China's Global Times predicted that the victory parade will accelerate international cooperation on denuclearization in North Korea. It also said that President Park's visit to China will open a new stage in diplomacy that aims at peace in Northeast Asia.
The Paper (澎湃新闻), a Chinese news outlet, quoted a representative from the Global Leadership Research Center at Shanghai Jiao Tong University who said that President Park's attendance at the anniversary parade was the first step on a journey toward overcoming the 'Asian Paradox,' part of her Northeast Asian Peace and Cooperation Initiative.
By Jeon Han, Yoon Sojung
Korea.net Staff Writers
Photos: Cheong Wa Dae
hanje[email protected]