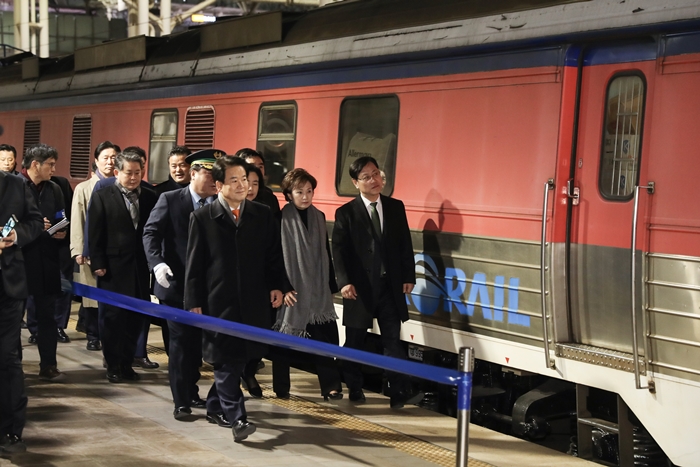 By Park Hye Ri and Hahm Hee-eun 
The 28 South Korean members of the inter-Korean railway inspection team took a train from Seoul that headed towards North Korea. It has been exactly ten years since the last train that travelled between the South and North stopped operating. Train No. 102 with a sign that says, "Seoul ↔ Sinuiju," will be travelling 2,600 km back and forth to inspect the North Korean railway.
The South Korean train departed from Seoul Station at 6:30 a.m. and arrived at Dorasan Station, the last station of the Gyeongeui line, at 8 a.m. The government held a 40-minute-long farewell event for the train that was scheduled to head north. Minister of Unification Cho Myoung-Gyon, Minister of Land, Infrastructure and Transport Kim Hyun-mee, President of the Korea Railroad Corporation (KORAIL) Oh Young-Sik, and CEO of the Korea Rail Network Authority Kim Sang-Gyun attended the event.
Minister of Unification Cho Myoung-Gyon, said in a congratulatory speech that, "By connecting the railway, the two Koreas will flourish together, and peace will be stabilized on the Korean Peninsula." Minister of Land, Infrastructure and Transport Kim Hyun-mee also emphasized that, "Today's ceremony will be a signal for the beginning of common prosperity between the two Koreas. It will also become a catalyst that expands the economic sphere of the former island-like Korean Peninsula towards the Eurasia continent."
The joint inspection is able to be carried out since the U.N. Security Council Sanctions Committees decided on Nov. 23 to waive sanctions, following the results of the April 27 Panmunjeom Declaration and the Sept. 19 Pyeongyang Joint Declaration.
Two joint inspections will be conducted. The 400 km-long Gyeongeui line from Gaeseong to Sinuiju will be conducted until Dec. 5, and the 800 km-long Donghae line from Geumgangsan Mountain to Dumangang River will be conducted from Dec. 8 to Dec. 17.
There are 28 South Korean members of the joint inspection team. It will be moving along the North Korean railway line to check the condition of the railroad and the safety of facilities, such as tunnels and bridges. Then the team will be conducting practical consultations with the North Korean members of the inspection team.
After the field inspection, the government plans to use the outcomes as primary data for modernizing the railway.
hrhr@korea.kr