[Balanced Development]
Interviewing leaders | #1. Gangwon-do Province
Balanced national development is the government's key challenge in the government's drive to solving issues Korea faces such as low economic growth, wealth polarization, the low birth rate, and developmental and economic disparity in the provinces.
President Moon Jae-in said in February last year at a proclamation ceremony for balanced national development, "Based on decentralization, engagement and innovation, regions can be the main agent and lead balanced development."
Korea.net is exploring the status of areas set to benefit from the balanced development campaign.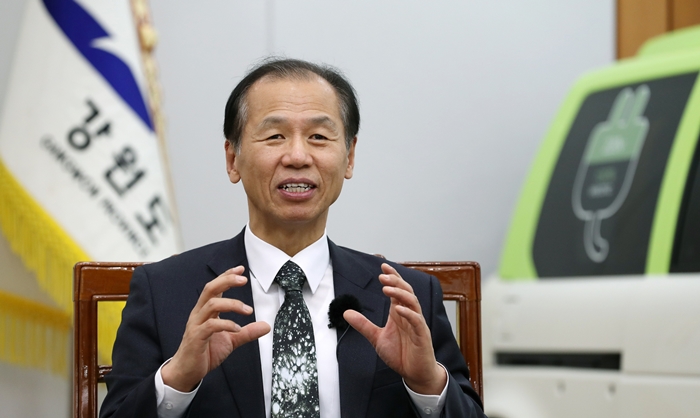 By Park Hye Ri and Kim Minji 
Photos = Jeon Han
Video = Kim Sunjoo, Choi Taesoon
Drive to become special self-governing province
Choi Moon-Soon, governor of Gangwon-do Province, aims to get his province special self-governing status based on the central government's vision for balanced development.
The main goal, he said, is to develop the world's only divided province, Gangwon-do, into an area where residents can make decisions and find solutions through economic, cultural and tourism exchanges. With his province having successfully hosted the PyeongChang 2018 Winter Olympics, he is striving to continue the progress his region has made in balanced development.
The following are excerpts from Korea.net's Jan. 17 interview with Gov. Choi at Gangwon-do Provincial Office on the balanced development campaign.
-How do you feel on the first anniversary of the PyeongChang 2018 Winter Olympics?
A year has passed since we hosted the PyeongChang 2018 Winter Olympics. We're both proud of and grateful for a successful Olympics. The Korean Peninsula had been in a tense state for a long time but has grown more peaceful thanks to the Olympics. We're very pleased that the Olympics brought peace to the peninsula, and peace has remained here ever since. 
-What was the progress made in balanced regional development thanks to the Olympics?
Gangwon-do Province was considerably behind other regions in the four major modes of transportation — rail, highways, ports and air — but the Olympics helped improve our region to a degree. As the Yeongdong area (covering eastern Gangwon-do Province in South Korea and eastern Kangwon Province in North Korea) has gotten far more accessible with Gangneung as the hub, we expect this to benefit the foundation for our development.
– What post-Olympics efforts has the province made?

Since the Olympics ended, the border counties of Cheorwon-gun, Hwacheon-gun, Inje-gun, Yanggu-gun and Goseong-gun near the Demilitarized Zone have gained a lot of attention; these former military zones were recently renamed "peace regions."
Though they used to be inhospitable to tourism and economic activity, the Olympics shifted the mood and brought them more attention. A wide range of investments will bring big changes to this region.
-Does the province have a particular project in progress thanks to the success of the Olympics?
Gangwon-do Province used to lack railways from the end of the Korean War because of the extremely high cost due to national division into North and South Korea as well as the province's rough and mountainous topography. But a railway linking Seoul, Wonju and Gangneung was opened for the Olympics, and another connecting Seoul to Chuncheon and Sokcho is in the design phase.
We set up the Peace Region Development Headquarters to assist development in our province. Investments in cultural and artistic events and facilities also began this year for soldiers. We also aim to create a DMZ tour that can hopefully extend to North Korea.
Gangwon-do's closed mine area holds high importance in Korean history, as it provided 40 percent of the energy needed for economic development. The decline of coal as fuel has caused serious difficulty in this region. So we plan to build a development center here and rename the area.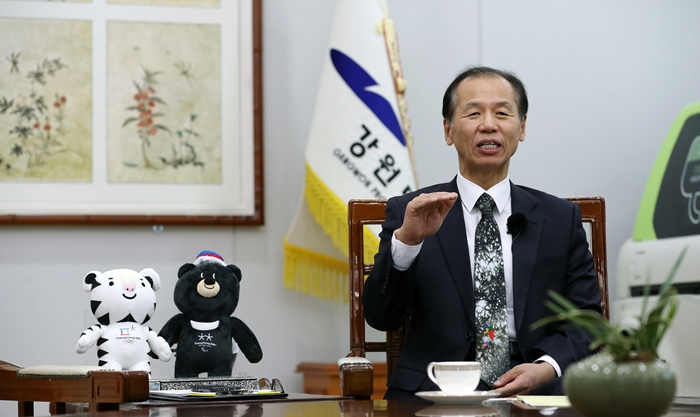 – Where is balanced development most needed in your province?

We're not planning the development of specific sectors because we want all provincial residents to participate in balanced development and raise quality of life. We're striving to boost quality of life in all sectors and areas.
Quality of life for residents is highly connected to the economy, most importantly jobs. According to a poll, jobs always hold the highest priority among people. The number of jobs in Gangwon-do used to be the lowest in the country but reached the national average in 2017. Also, we aim to lift the province's employment rate this year to 63 percent.

-What is the province's biggest goal in balanced development?
Autonomous decentralization is our main goal in balanced development. Our ultimate objective is to become Gangwon-do Special Self-governing Province, where all residents can participate in administration and decision making especially in inter-Korean relations.
-Any final words to Korea.net readers?
Gangwon-do Province is Korea's best tourist destination.
A record three million of the 13 million visitors who came to our province last year were foreigners. We sincerely thank everyone for visiting us and hope you come again this year to mark the first anniversary of the PyeongChang Winter Olympics, as well as experience our incomparable scenery.