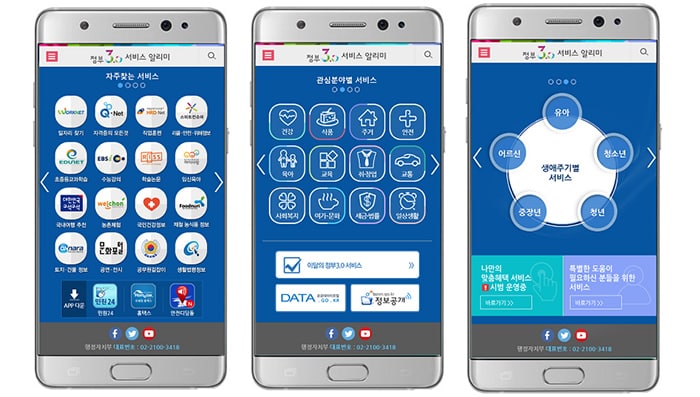 A selection of the Korean government's online services can now be browsed and accessed at the click of a button via a new mobile app that was released today.
On Aug. 19, the Ministry of the Interior unveiled its "Gov't 3.0 Alert Service" in an effort to consolidate the core services offered to the public by the central government and other public organizations.
Upon opening the app, users are met with three distinct sections: Frequently Visited Services, Services by Category, and Services by Life Stage.
In Frequently Visited Services, users can find 19 of the most popular government services used by the public. Here, you can access Minwon 24, a civil service consultation center where you can apply for paperwork or file complaints. There is also Worknet, where job seekers can browse openings in both the public and private sector. You can also find travel information for every region of Korea by clicking on Visit Korea.
For those wanting to explore what's on offer, Services by Category is a good starting point, as it breaks down the services into 12 areas of interest, like health, housing, safety, welfare and leisure.
Alternatively, you can check out the range of services in Services by Life Stage, categorized by age group. Clicking on the Infant tab, for example, takes the user to a list of services related to raising a young child, like the Childcare website run by the Ministry of Health that provides useful information on pregnancy, childbirth and child rearing. Other infant-related services include information on nursery schools and vaccinations, as well as health and nutrition. The Young Adult tab provides links to 44 services that cover topics like domestic and overseas employment, application guidelines for university programs and scholarship offerings. The Senior tab offers information on employment and start-ups, healthcare, pension management, travel and cultural events.
"Gov't 3.0 Alert Service" is available at the Google App store and can also be accessed via the Government 3.0 website itself (www.gov30.go.kr). A version of the app for the iPhone is pending release.
By Lee Hana
Korea.net Staff Writer
[email protected]