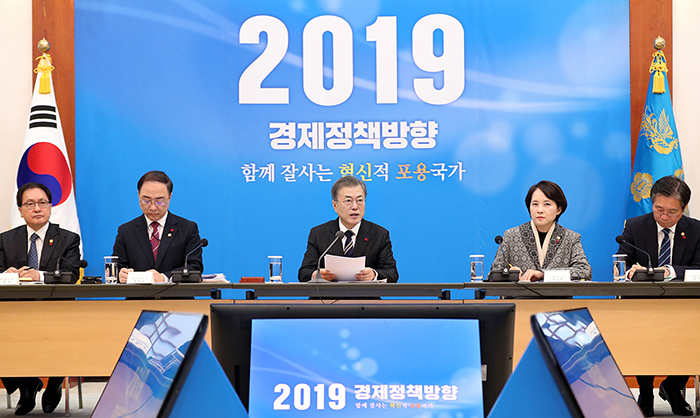 By Xu Aiying and Yoon Sojung
The government on Dec. 17 said it will do its best to conduct regulatory reform and boost investment to improve economic vitality next year.
The country will get an early start in proceeding with large-scale industrial investment projects worth over KRW 6 trillion. It will also pre-allocate budget or raise the proportion of government subsidies for infrastructure investment projects worth KRW 8.6 trillion.
In an extended meeting of economy-related ministers at Cheong Wa Dae, the government set up the direction of its economic policy for 2019 with per capita income set to reach USD 30,000 for solidifying the foundation for "an innovative and inclusive state where all people prosper together."
This is the first time President Moon Jae-in chaired such a meeting since taking office.
Officials at the meeting presented the four directions of economic policy next year: invigorating economic vitality in all areas, improving economic constitution and conducting structural reform, strengthening inclusiveness in the economy and society, and investing in and preparing for the future.
To see results in the first half of next year, the government will push ahead with large-scale corporate investment projects such as the building of a semiconductor cluster, a global business center, car test-driving roads or K-pop concert arenas.
It will also focus on 16 selected tasks and review their overall implementation through meetings. The measures include expanding health and welfare services, setting up innovative measures in manufacturing, and making adjustments in deciding the minimum wage and the flexible work hour system.
To create more jobs and strengthen economic growth engines, investment by public institutions will rise KRW 9.5 trillion to hit KRW 54.1 trillion next year from KRW 44.6 trillion in 2018.
President Moon said next year's estimated budget of KRW 470 trillion is the largest in the country's history.
"We've expanded the budget for industries to its highest level to focus on raising economic vitality, and also increased the budget for inclusiveness such as improving the people's livelihood, welfare and quality of life," he added.
xuaiy@korea.kr