In order to become a more innovative nation, the government has announced its plans to concentrate on protecting children, on general safety, on fighting corruption and on providing personalized welfare services.
Eight government ministries presented their new policies and measures to the president during an annual policy briefing that took place at Cheong Wa Dae on Jan. 26, all aimed at the goal of national innovation. These ministries included the Ministry of the Interior, the Ministry of Justice and the Ministry of Environment.
The Ministry of Public Safety & Security presented its policies to strengthen safety across the nation, including safety measures for children. The ministry will distribute across the country posters and pamphlets outlining safety guidelines and carry out other safety policies that are closely related to one's everyday life. In order to strengthen safety and disaster management at private firms, it will offer incentives, such as early permission to move onto industrial complexes for companies that have in place action plans to reduce damage from natural disasters.
The ministry also introduced its policies to prevent child abuse. The Ministry of Justice will add three more job categories, such as workers at adoption agencies, to the list of the existing 24 occupational groups that are responsible for reporting any suspicions of child abuse. It will also appoint a total of 111 prosecutors at 58 local prosecutors' offices and set up a new bureau for crimes against women and children.
The Anti-corruption & Civil Rights Commission of Korea will add child abuse to the official list of public "whistleblower protection" revelations, and protect whistleblowers by law if they report any case of child abuse. Going forward, if any insider at a children's welfare facility or educational organization reports a case of child abuse, they will be protected by the Whistleblower Protection Act and are eligible for up to KRW 2 billion as compensation.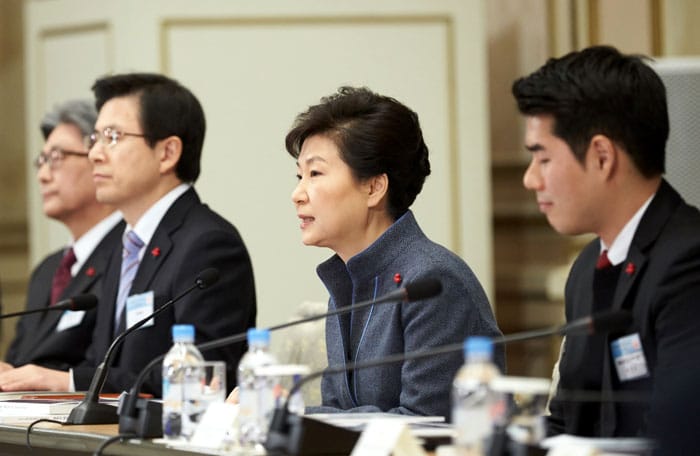 Starting this March, the Ministry of the Interior will extend its so-called "Happy Maternity Service" across the country so that people can apply for various benefits and services as soon as they register their child's birth. To do so, the ministry will work together with related local governments by synchronizing and integrating related data. It will also offer so-called "one-stop welfare services" that are customized individually. These services range from childbirth, maternity, education, employment, aging and even death. The ministry will also open key data in 22 sectors owned by the government in order to support business startups.
Finally, the Ministry of Personnel Management said it will raise or abolish the upper limit on annual income when it recruits expertise either overseas or from among non-Koreans.
President Park Geun-hye urged the ministries to work for the citizens, saying that, "Law and systems need to approach citizens in a warmer, friendlier manner. We also need take extra care and provide protection for women, children and other socially weak people."
By Yoon Sojung
Korea.net Staff Writer
Photos: Cheong Wa Dae
[email protected]