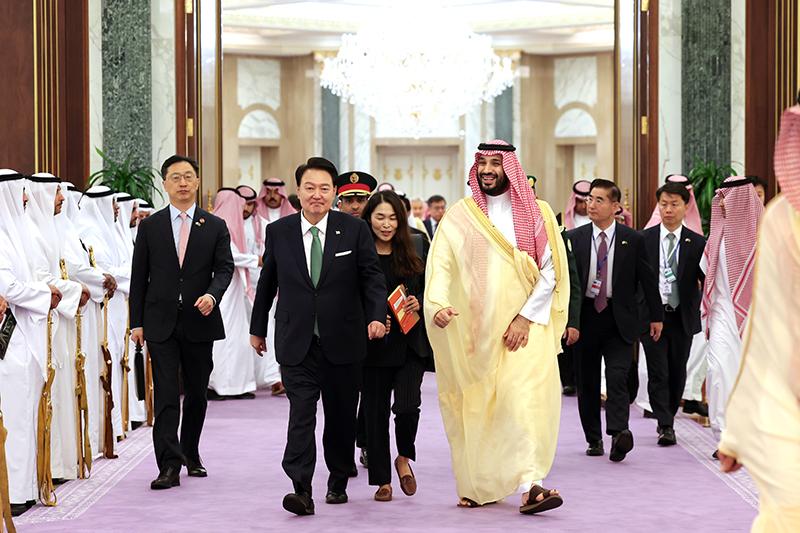 Korea and Saudi Arabia on Oct. 23 adopted a joint statement during President Yoon Suk Yeol's state visit to the Arab nation.
The statement was the first by both countries in 43 years since that concluded during the visit of President Choi Kyu-hah to Saudi Arabia in 1980.
"The two sides agreed to continue to deepen and advance the Future-oriented Strategic Partnership established on the occasion of that visit, which marked the 60th anniversary of diplomatic relations between the two countries," the Office of the President said.
"The two sides, emphasizing that the cooperation between the two countries through the Saudi-Korean Vision 2030 Committee has played a valuable role in advancing the objectives of Vision 2030, reaffirmed that further strengthening the partnership between the two countries for the realization of Vision 2030 is mutually beneficial for the two countries."
The statement welcomed that "trade volume has increased 400 fold and the level of economic cooperation between the two countries has reached a significantly high level since the establishment of diplomatic relations in 1962."
"The two sides agreed to actively explore the expansion of mutual investments in areas of common interest including the hydrogen economy, smart cities, future mobility means and startups."
"The two sides agreed that the conclusion of the Free Trade Agreement (FTA) between the Republic of Korea and the GCC (Gulf Coast Council) countries will not only enhance bilateral trade between the two countries, but also provide a systemic foundation to facilitate economic cooperation in various fields. They will continue to cooperate to bring about a swift conclusion of the FTA negotiations," the statement added.
In construction and infrastructure, it said "the two sides will collaborate for the success of Saudi Arabia's giga-projects, such as Qiddiya, the Red Sea Project, ROSHN, Diriyah, and other related infrastructure projects" in addition to the Neom urban development project.
Turning to the energy and climate change sector, the statement said "the two sides will strengthen cooperation in the areas of peaceful use of nuclear energy, electricity, and renewable energy including solar energy, wind energy, as well as clean hydrogen for export from Saudi Arabia to the Republic of Korea."
"In particular, the two sides signed the Hydrogen Oasis Initiative (H2Oasis) with the aim to strengthen partnership and support project developments in clean hydrogen."
"Both sides welcomed the growing popularity of Korean culture in Saudi Arabia, including the opening of the King Sejong Institute, an institution for teaching the Korean language, last year. In addition, the two sides agreed to provide their support for enhancing mutual understanding between future generations and promoting the teaching and learning of the Arabic and Korean languages."
Concluding his state visit to Saudi Arabia, President Yoon on Oct. 24 is slated to attend the forum Future Investment Initiative, also known as "Davos in the Desert," before flying to Doha, Qatar, for another state visit.
dlektha0319@korea.kr