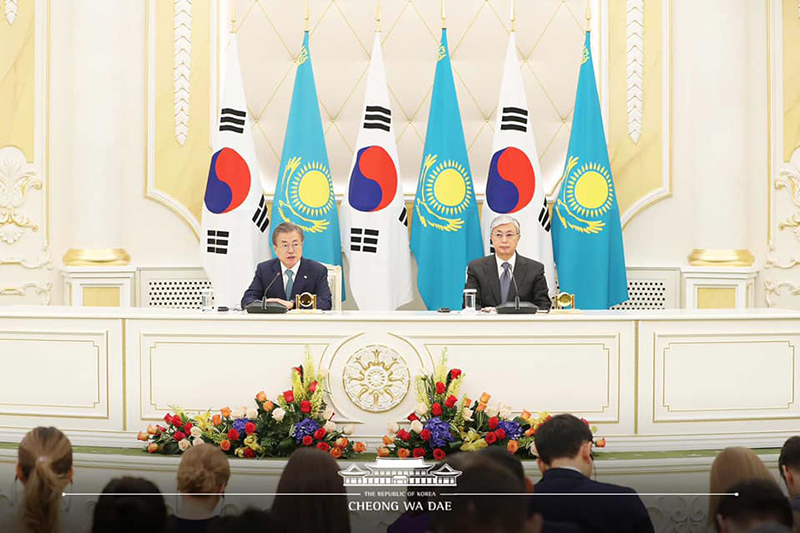 By Xu Aiying and Yoon Hee Young
Kazakh President Kassym-Jomart Tokayev will make a state visit to Korea from Aug. 16-17 at the invitation of President Moon Jae-in.
Cheong Wa Dae Spokesperson Park Kyung-mee on Aug. 12 announced the Kazakh leader's itinerary in a briefing.
The two presidents on the morning of Aug. 17 will hold a bilateral summit, their second after that held during President Moon's state visit to Kazakhstan in April 2019.
In their talks, both leaders will examine the results of cooperative projects and discuss the expansion of practical bilateral cooperation in fields such as transportation, infrastructure and construction; information and communication technologies; health care; and the environment.
With next year to mark the 30th anniversary of bilateral ties, both leaders will discuss cooperation in the promotion of cultural and human exchanges and enhancement of regional and international cooperation.
In addition, the remains of Gen. Hong Beom-do (1868-1943), commander-in-chief of the Greater Korea Independence Army and independence fighter during Japanese colonial rule of the Korean Peninsula, will be repatriated from a cemetery in Kyzylorda, Kazakhstan.
Along with Gen. Choi Jin-dong, Gen. Hong in 1920 led their troops to victory at the Battle of Bongo-dong (Fengwudong) in Manchuria, China, in the first major win against Japan by the Korean independence movement.
President Moon requested the repatriation during his 2019 state visit to the Central Asian nation, to which the Kazakh government pledged to cooperate.
President Moon on Aug. 14 will send a delegation led by Minister of Patriots and Veterans Affairs Hwang Ki-chul to get Gen. Hong's remains.
On the evening of Aug. 15, or National Liberation Day, the remains will arrive in Korea with the highest national honors. After a two-day mourning period from Aug. 16-17, they will be buried at Daejeon National Cemetery on Aug. 18.