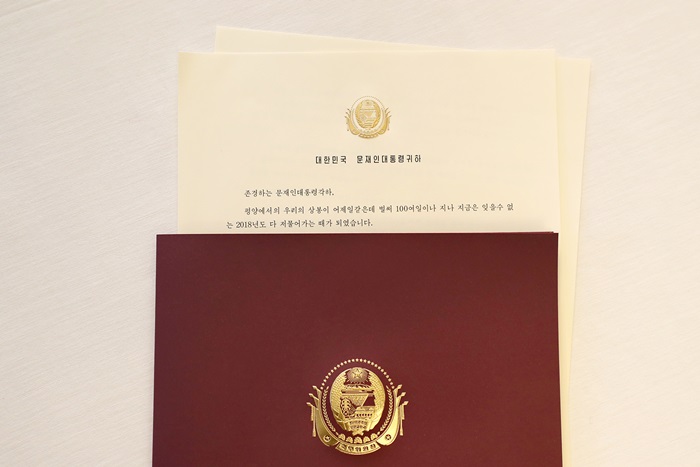 By Park Gil-ja and Yoon Sojung
North Korean leader Kim Jong Un on Dec. 30 sent a personal letter to President Moon Jae-in expressing Kim's intent to hold inter-Korean meetings more often and work together for peace, prosperity and the denuclearization of the Korean Peninsula.
In a news briefing, Cheong Wa Dae Spokesperson Kim Eui-kyeom said, "Chairman (of the North's State Affairs Commission) Kim emphasized that both Korean leaders successfully took substantial and bold measures that went beyond the long-standing confrontation between the two sides and freed the Korean people from military tension and the threat of war."
Kim expressed disappointment for not making a reciprocal trip to Seoul this year but expressed a strong willingness to eventually do so, according to the spokesperson.
The two-page letter was conveyed from the North via the inter-Korean communication channel and partially unveiled to the public. It started by saying, "Dear Your Excellency President Moon Jae-in."
"Though it feels like we met each other in Pyeongyang just yesterday, more than 100 days have passed since our last meeting. Now, we see the unforgettable year of 2018 almost coming to an end," Kim said in the letter.
After receiving the letter, President Moon responded later that day on his personal SNS accounts, saying, "Nothing is impossible if we meet each other with a true heart."
"Chairman Kim once again expressed his commitment to actively follow the agreements reached by both Koreas and by Pyeongyang and Washington," President Moon said, welcoming Kim's proposal to hold inter-Korean meetings next year.
krun@korea.kr