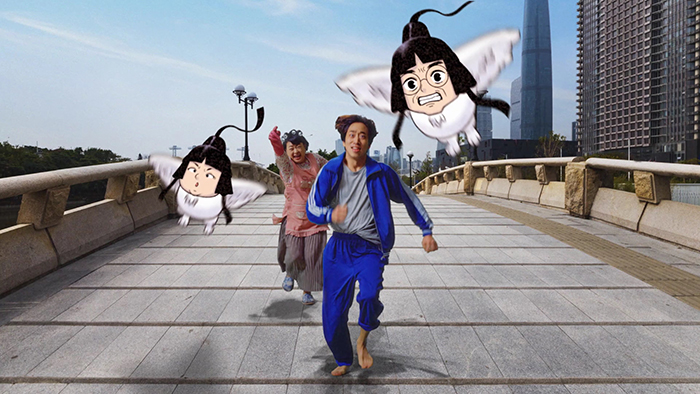 By Kim Young Shin 
Photos = Korean Culture and Information Service
The historic inter-Korean summit on April 27 brought global attention to the Footbridge at the U.N. truce village of Panmunjeom, on which the leaders of the two Koreas walked and talked. The Footbridge has since become a symbol of peace on the Korean Peninsula.
Korean Culture and Information Service (KOCIS), a subsidiary of the Ministry of Culture, Sports and Tourism, on Dec. 3 released "Walk On Your Own Footbridge," a series of promotional video featuring the bridge. Released this year, the videos convey the message that "anyone can walk on the Footbridge of peace and reconciliation when walking together with an open heart."
The video shows a zombie and a man who were out to kill each other make peace at the Footbridge. In a parody featuring a busy mother and her lazy son, the video has a twist than turns a thriller into a comedy.
The videos are available on Korea.net's official YouTube channel (www.youtube.com/user/GatewayToKorea) and Facebook page (www.facebook.com/KoreaClickers).
The English-language versions of the teaser, promotional video and its parody were uploaded on Dec. 3. The videos will also be offered in Korean, Chinese, Japanese, Russian, Spanish and French.
"KOCIS released the videos to remind internet users abroad of the message of peace and reconciliation through Footbridge and the importance of peace on the Korean Peninsula and the world," said a KOCIS official. " We hope that people walk on their own footbridges of peace and reconciliation in their daily lives."
ysk1111@korea.kr