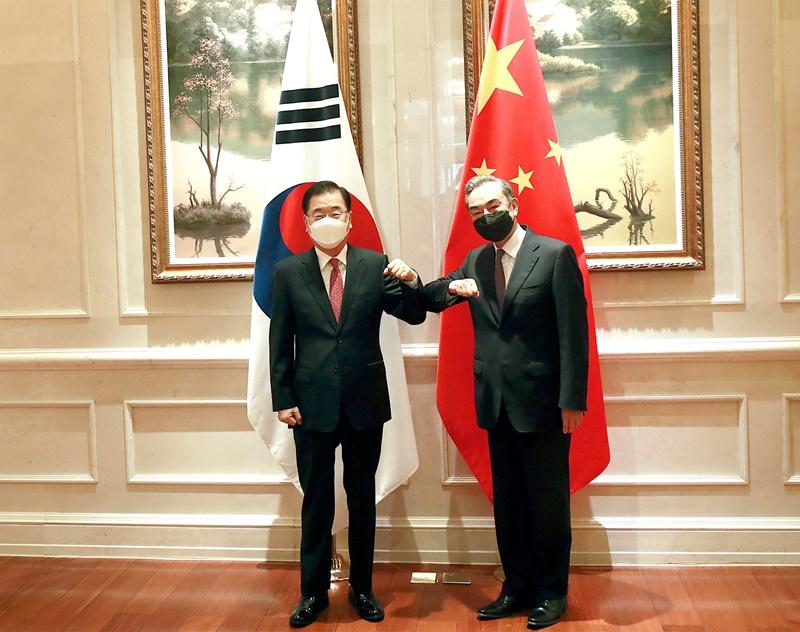 By Xu Aiying and Lee Jihae
Minister of Foreign Affairs Chung Eui-yong and Chinese State Councilor and Foreign Minister Wang Yi on April 3 held a bilateral summit in the southwestern city of Xiamen in China's Fujian Province.
Both officials pushed for high-level exchanges such as the proposed visit to Korea by Chinese President Xi Jinping and a "two plus two" dialogue of diplomatic and national security officials.
They also exchanged opinions on issues of mutual interest such as high-level summits and exchanges, bilateral relations including practical cooperation and denuclearization on the Korean Peninsula. The Ministry of Foreign Affairs in Seoul added that the two officials discussed boosting bilateral exchanges and cooperation through various dialogue channels despite the pandemic.
Both sides agreed to maintain active communication so that President Xi can visit Korea as soon as possible after the pandemic situation subsides and grows more favorable. They reconfirmed the need for continuous cooperation among Korea, China and Japan to enable the early holding of a trilateral summit.
Seoul and Beijing agreed to push for vice foreign ministers' talks on strategic, diplomatic and national security within the first half of this year, and to draft a plan on exchange and cooperation between their foreign ministries to further boost communication.
The two ministers exchanged opinions on the peninsula's situation and said they shared the goal of achieving denuclearization and setting up a permanent peace in the region. They also agreed to continue expanding cooperation for the stable management of peninsular affairs and building conditions conducive to progress toward the peace process on the peninsula.
Switching to culture, economy, the environment and history, both sides said strengthening practical cooperation in the four sectors is vital for improved relations. They also pledged to launch within the first half of this year a committee for boosting ties and to mark the 30th anniversary of diplomatic relations next year.