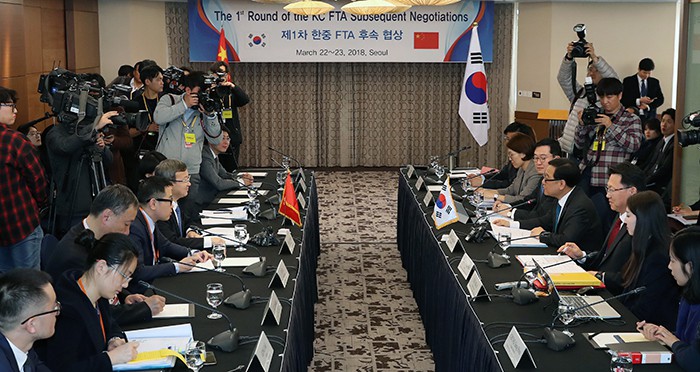 By Sohn JiAe
Photos = Jeon Han
Seoul l March 22, 2018
Korea and China have begun to discuss ways to expand services and investments between the two.
On March 22, the first round of the Korea-China FTA Subsequent Negotiations brought together representatives from Seoul and Beijing to discuss expanding services and investments. This builds on the Seoul-Beijing free trade agreement (FTA) that started in December 2015.
The delegations were represented by Deputy Minister of Trade and Investment at the Korean Ministry of Trade, Industry and Energy Kim Young Sam and Chinese Vice Minister of Commerce Wang Shouwen.
When the Korea-China FTA started in late 2015, they decided to only open services and investments on a restricted basis. They agreed that they would have follow-up negotiations within two years to discuss higher-levels of liberalization.
President Moon Jae-in and Chinese President Xi Jinping agreed to hold the follow-up sessions after meeting in Beijing in December 2017. That has all made it possible to hold these Seoul negotiations this time.
At the two-day round of talks, the two sides shared their thoughts about legislation, policies and issues of mutual interest associated with services and investments. The participants will also discuss things like basic principles, the scope of market opening and a specific schedule for the next round of negotiations.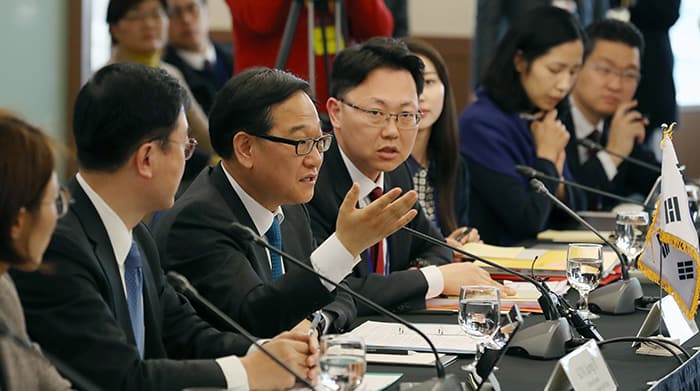 "The time has come for Korea and China to put their tough times behind them and raise their economic and trade relations to a new level," said Kim Young Sam, deputy minister of trade and investment at the Ministry of Trade, Industry and Energy.
The deputy minister pointed out that bilateral trade in services has accounted for more than half of the total trade between the two, and that it has been growing four times faster than the global growth in services.
"Our two countries must put our utmost efforts into upgrading our existing FTA, making it into a forward-looking trade agreement. Our aim is to achieve a higher level of service liberalization, to provide more effective protection for investors and to create a more stable environment for investing," he added.
In response, Chinese Vice Minister of Commerce Wang Shouwen said, "At the moment, the trend of protectionism is on the rise. With that as background, it's very important for China and Korea, two important economies in East Asia, to send a positive signal concerning further market opening." The vice minister outlined the Beijing government's ongoing efforts on free trade, saying that it's pursuing free trade policies and expanding the scope of free trade.
Noting how China's service exports to Korea were worth about USD 10.7 billion, and that Korea's investment in China was about USD 3.7 billion last year, Wang added that, "This indicates there's already a good foundation for our trade in services and investments. However, great potential remains in the two economies. We should bear in mind that we need a more balanced relationship in terms of trade in services and investments, as well as in our trade in goods."
Meanwhile, Seoul will host the 13th round of follow-up FTA negotiations among Korea, China and Japan. The three countries will tackle core issues associated with goods, services and investment.