President Park Geun-hye and Chinese Premier Li Keqiang discussed bilateral cooperation, including the Korea-China free trade agreement, in Beijing on Sept. 2.
President Park met with Premier Li as part of her three-day trip to Beijing to attend China's commemoration to mark the 70th anniversary of the end of World War II. In the meeting, the president expressed her gratitude for the warm hospitality shown by the Chinese government and delivered her congratulations on Beijing being chosen as the host city for the 2022 Winter Olympic Games.
In return, Primer Li thanked President Park for her attendance at the commemoration and said he would pay special attention to bilateral cooperation, including the successful hosting of the Winter Olympic Games in both Korea and China.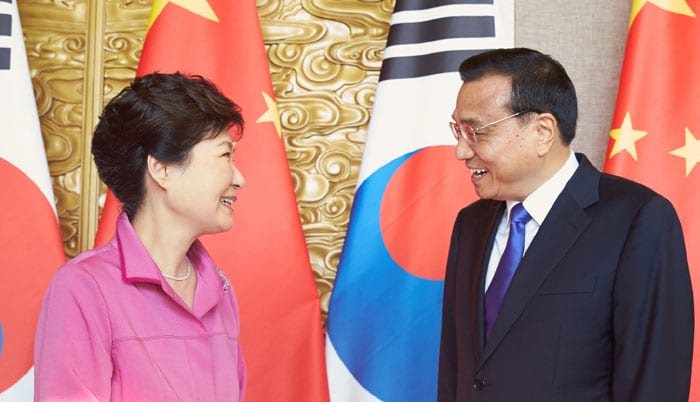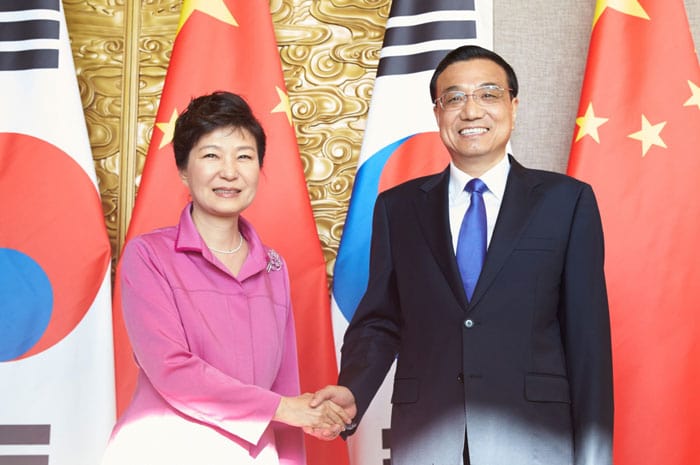 President Park and Premier Li agreed to expedite the ratification of the Korea-China free trade agreement (FTA), maximize its benefits and to cooperate on abolishing non-tariff barriers. President Park requested that China accept food inspection reports issued by Korean institutions for China's imports of Korean products, finalize administrative procedures for China's imports of Korean kimchi and quickly solve problems in relation to the quarantine and inspection of Korean rice.
In response to the kimchi issue, Premier Li said new, more liberal rules concerning the inspection of incoming foods would soon come into effect. For issues regarding other non-tariff barriers, he said he would try to find solutions according to the principle of reciprocity.
President Park said she has reiterated over and over that South Korea will actively aid North Korea in cooperation with the international community if the North gives up its nuclear weapons development program. In relation to that, the president suggested the establishment of a Northeast Asian Development Bank. The premier responded that he would review the suggestion with earnest. The two sides also agreed to closely cooperate on the launching and operation of the Asian Infrastructure Investment Bank (AIIB).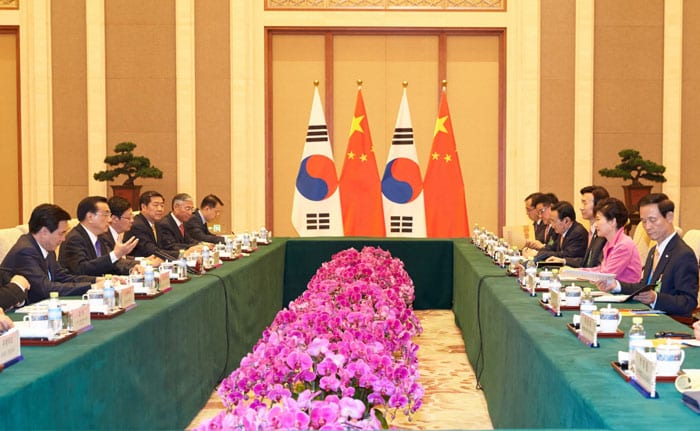 The two sides also discussed jointly developing an arts and entertainment market. President Park suggested that the two nations cooperate on producing and distributing arts and entertainment programs by tapping into their deep cultural assets. The president also hoped that regulations that hindered bilateral cultural exchanges and cooperation be eased and that the two sides will soon be able to jointly produce TV programs, including animation and soap operas.
As part of the bilateral meeting, the Korea Venture Investment Corp. and the China Development Bank Capital Corp. (CDBC) signed a memorandum of understanding (MOU) to establish a KRW 200 billion investment fund to invest in cultural content, software and consumer goods ventures. Korea and China also signed nine additional MOUs, covering cooperation on quality and quarantine inspections, standards and accreditations, and expanding private sector trade and exchanges.
Finally, Korea's St. Mary Hospital and the Ruijin Hospital in Shanghai signed an MOU on providing telemedicine. Including this one, the two countries have signed 22 MOUs agreeing to cooperate in promising industries, including health and medical care, robots and next generation mobile communications technology.
By Limb Jae-un
Korea.net Staff Writer
Photos: Cheong Wa Dae
[email protected]