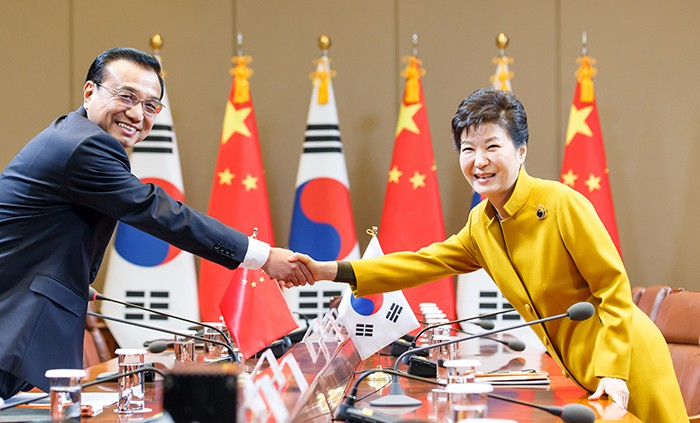 President Park Geun-hye held a summit with Chinese Premier Li Keqiang during his official visit to Korea, at Cheong Wa Dae on Oct. 31. It was the first-ever talks between the two since he was inaugurated as premier in March 2013.
During the talks, the two leaders agreed to expedite bilateral cooperation and to further strengthen Sino-Korean relations as strategic partners. They discussed a range of issues of common interest, such as Korea-China ties, issues involving the Korean Peninsula and regional cooperation. They came up with specific plans to enhance bilateral cooperation on these specific issues.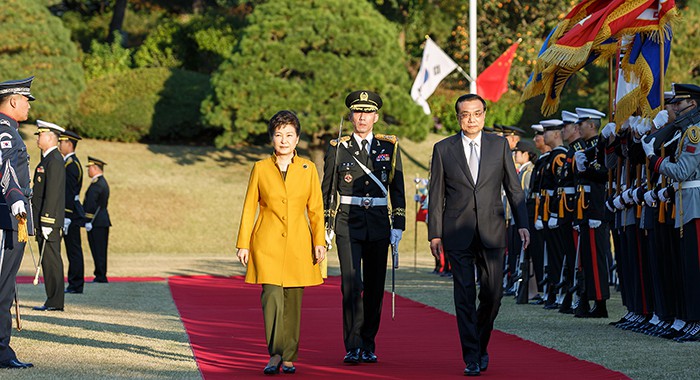 The two leaders shared the view that the two countries should make joint efforts specifically to accelerate Chinese import procedures covering Korean foods, such as kimchi, rice and chicken ginseng soup, or samgyetang, and also to further cooperate across the financial sector and the environment.
Negotiations involving Korean side dishes made with kimchi have been completed between the World Trade Organization (WTO) and the Chinese government, and the new import procedures will soon come into force. Meanwhile, the procedures covering rice imports have yet to be ratified in the two countries, and as for Korean exports of samgyetang to China, merely the paperwork has begun.
President Park called on the Chinese premier to "accelerate the procedures on importing these three food items," saying that, "Chinese customers don't like it if they wait too long to have such tasty food on their table."
In response, the Chinese premier said to President Park that, "When they finally have Korean food on their table, I will say to the Chinese people that it's all thanks to your efforts."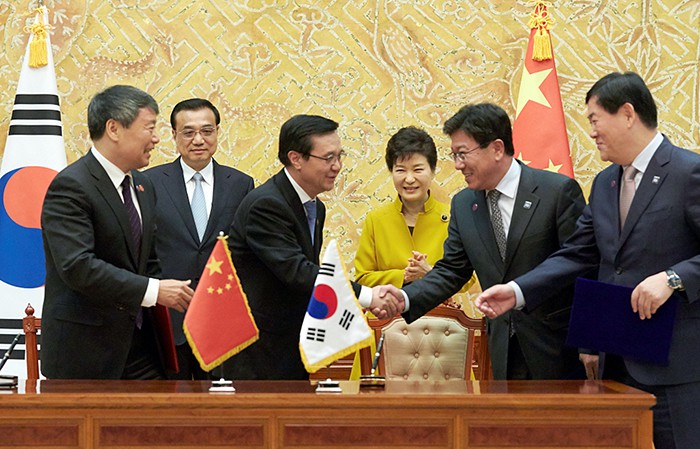 In a sign of deepening financial cooperation, the two sides also agreed to ensure bilateral efforts made in financial markets and to strengthen transactions made in each currency. The most noteworthy point agreed upon in the talks was that Korea will launch a won-yuan direct exchange market, a move that could link financial and bond markets in both countries and, ultimately, could expand trade and investment between the two countries. On top of that, China agreed to allow Korea to issue yuan-denominated bonds in China's debt markets, the first time that the Chinese government has allowed this.
Both sides also agreed to increase the quota of renminbi qualified foreign institutional investors (RQFII) held by Seoul, to work together to increase business opportunities for firms in both countries, and to export Korea's creative model of financial operations in cooperation with Shandong Province. They also vowed to boost cooperation on setting up a new financial infrastructure by bringing together Korean and Chinese securities depositories.
The two leaders saw eye-to-eye on the need for more cooperation on environmental issues, too. They signed an agreement to share data on air quality and fine particulate that blows in from China. The two nations will share data via a file transfer protocol (FTP) system on air quality that was collected in major cities in Korea, including the capital, and from 35 cities in China. This will also include data about dust storms collected from 40 regional areas across China. Under the agreement, the two governments will share their respective air quality policies and boost interchanges between experts in this field.
By Jeon Han, Sohn JiAe
Korea.net Staff Writers
Photos: Cheong Wa Dae
[email protected]