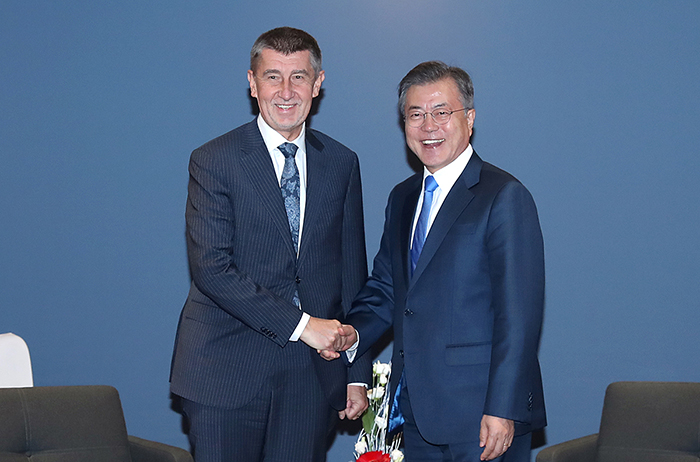 By Park Gil-ja and Lee Hana
Photos = Cheong Wa Dae
President Moon Jae-in, on a three-nation trip that will take him to Argentina for the annual G-20 summit, arrived in the Czech Republic on Nov. 28, and held a meeting with Czech Prime Minister Andrej Babis. They agreed to boost economic cooperation between the two countries.
Korea and the Czech Republic established diplomatic ties in 1990 and a strategic partnership in 2015 and have steadily improved their relationship since. During the meeting, the two leaders stressed the importance of mutual cooperation in future-oriented industrial sectors, including artificial intelligence and information technology.
In particular, they agreed to increase cooperation in the nuclear energy sector. "Korea currently has 24 nuclear facilities, and in 40 years of operation, we haven't had one accident," said President Moon. To this the prime minister replied that he highly regards the safety of Korea's nuclear plants.
President Moon also asked that Korea be excluded from the European Union's safeguard measures, considering the positive impact that the production of Korean steel in the Czech Republic has on job creation. The president also expressed his hopes to expand cooperation in the defense industries.
Meanwhile, Czech President Milos Zeman, who couldn't meet with President Moon due to a trip to Israel, wrote a letter that said, "Korean companies had successfully taken root in the Czech Republic" and that "he hoped their two countries would continue cooperating in science, innovation and cutting-edge technologies."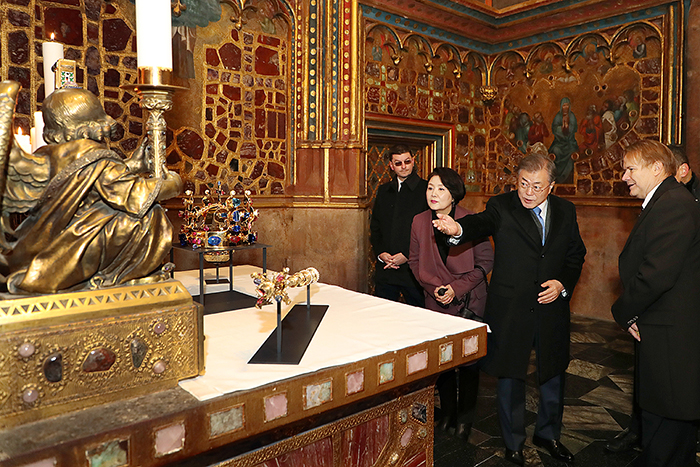 Later that day, President Moon met with Koreans living in the Czech Republic. "Last year, trade between our countries approached USD 3 billion, and around 410,000 Koreans visited the Czech Republic. In the manufacturing industry, Korea is the Czech Republic's third largest investor," said the president.
During a press briefing that day, Senior Secretary to the President Yoon Young-chan announced that President Moon would be holding a summit with U.S. President Donald Trump on the sidelines of the G20 summit in Buenos Aires.
"Korea and the U.S. will discuss measures to bring peace to the Korean Peninsula, and ways to strengthen their alliance," said Yoon.
krun@korea.kr