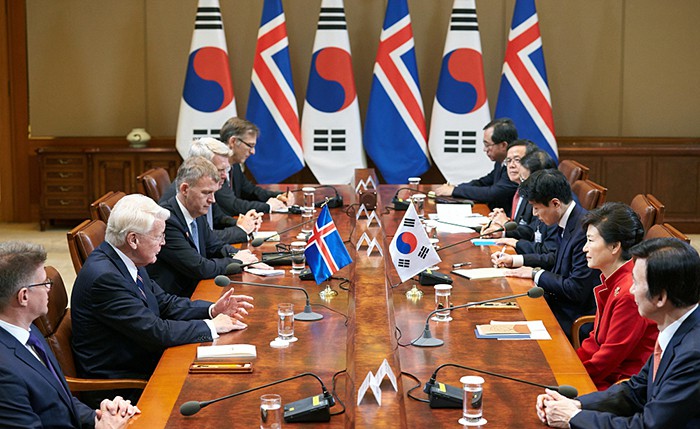 Korea and Iceland have agreed to enhance bilateral cooperation in the Arctic.
President Park Geun-hye held a summit with her Icelandic counterpart, President Olafur Ragnar Grimsson, at Cheong Wa Dae on Nov. 9. During the talks, the two leaders reached an agreement that the two countries would strengthen cooperation on developing a northern polar shipping route, a move that would reduce travel from Busan to Rotterdam by about 30 percent, from about 22,000 kilometers down to about 15,000 kilometers. The new route would lower the travel time by about 10 days, from 40 days to 30 days.
The two sides also agreed to push for a consultative meeting starting next year to discuss policies on the polar region. Aside from the Arctic, the presidents shared the view that the two countries should share their experiences and exchange technologies involving eco-friendly energy, and work together on the global issue of dealing with worsening climate change.
"Iceland has contributed greatly to the sustainable development of the Arctic region over the past many years. The nation is also energy self-sufficient," President Park stated. "Hopefully, this summit will be a good opportunity for the two nations to expand bilateral cooperation not only in these fields, but also across a wider range of areas."
Finally, in response the Icelandic president said, "The Arctic Circle Assembly (ACA) has grown into one of the largest platforms over the past few years, allowing the global community to have in-depth discussions on the polar region. Korea, too, has played a crucial role in that process, for which we are really grateful." The ACA is an assembly for international cooperation on Arctic issues launched in 2013 by Iceland.
By Sohn JiAe
Korea.net Staff Writer
Photos: Cheong Wa Dae
[email protected]