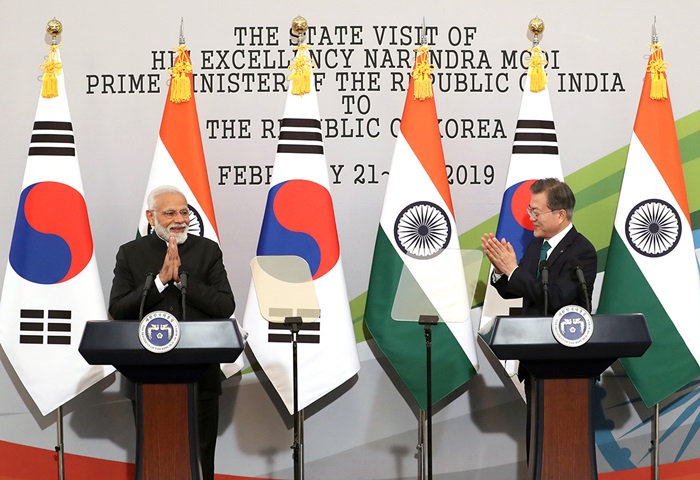 By Park Gil-ja and Kim Minji 
Photos = Cheong Wa Dae
President Moon Jae-in and visiting Indian Prime Minister Narendra Modi on Feb. 22 agreed to raise bilateral trade volume to USD 50 billion by 2030.
In a joint news conference after his summit with Modi in Seoul, President Moon said, "Bilateral trade last year reached a record USD 21.5 billion, and both countries will conduct future-oriented cooperation to enrich the lives of the people."
Seoul and Delhi also agreed to complete negotiations for upgrading their comprehensive economic partnership agreement (CEPA) and reinforce their "special strategic mutual partnership" by improving their trade environments such as import deregulation.
Both leaders also pledged to bolster cooperation in defense and the Fourth Industrial Revolution, as well as promote a joint project for a lunar probe.
In other sectors, Korea and India will increase human and cultural exchanges. Koreans will be permitted to stay in India for up to three years and Seoul will issue a group tour visa for Indians wishing to visit Korea.
Modi also lauded the Korean government for promoting peace on the Korean Peninsula ahead of the second North Korea-U.S. summit slated for next week.
The prime minister said he will strive to ensure prosperity for both countries by combining Korea's New Southern Policy and India's Look East Policy.
After the summit, both leaders signed four memorandums of understanding on issues such as a commemorative postal stamp depicting Queen Heo, a legendary Indian princess who married a Korean prince in 42 A.D.
Modi's visit reciprocated President Moon's trip to India in July last year. The Indian leader arrived in Korea for two-day visit on Feb. 21 and attended the unveiling of a bust of Indian activist Mahatma Gandhi and a private dinner.