By Yoon Sojung
Photos = Jeon Han
Video = Kim Sunjoo, Choi Taesoon
"Korea is an icon in the Asia Pacific for democracy, human rights and a free press," said New Zealand Ambassador to Korea Philip Turner, when asked about how Wellington sees Seoul on Nov. 29.
"From New Zealand's point of view, we see Korea as a fantastic partner to work with, to live with shared values and to build a better world," said the diplomat.
He predicted that the two governments would cooperate well with each other as both governments pursue shared values in trade and security as well as domestically in socially inclusive growth and income-driven growth.
Ambassador Turner also said both countries have a lot of opportunities for future cooperation between Seoul's New Southern Policy and the Pacific Reset policy of New Zealand.
Mentioning President Moon Jae-in's state visit to New Zealand starting from Dec. 2, he said, "The New Southern Policy is pretty interesting to us."
"It's part of the overall picture of how the two countries can do more in these turbulent international times to defend and protect the values of our way of life," he added.
Korea.net sat down with Ambassador Turner at the embassy of New Zealand to Korea, located in Jeong-dong, Jung-gu District, Seoul.
– President Moon Jae-in will pay a state visit to New Zealand soon. What issues and sectors do you hope the two countries will discuss?
I would say economic cooperation. Since the free trade agreement (FTA) took effect just three years ago in 2015, the bilateral trade volume and people-to-people exchange have increased remarkably. The overall bilateral trade last year alone was up 17 percent.
Both sides are benefiting from the extra access but also confidence and trust we built from having a bilateral FTA. The next opportunity we think is to leverage our relationship bilaterally, to help build a better global, regional trade system.
I hope the two countries can work together in the framework of the Comprehensive and Progressive Trans-Pacific Partnership (CPTPP) and take the lead in jointly responding to anti-trade, anti-globalization mood. We see a big opportunity for the region, for countries like Korea and New Zealand. In addition, the CPTPP alone will be bigger than any of the free trade agreements (FTA) Korea has ever had with a single country like the U.S., the E.U. or China.
– Wellington has been showing steadfast support for Seoul's Korean Peninsula peace process. How does New Zealand see the latest peace mood developing on the Korean Peninsula? 
The first thing I did after I came to Seoul this April was to celebrate with staffers the success of the Inter-Korean Summit. Compared with last December when I had the opportunity to take this job, great changes have been made in the tension that existed on the Korean Peninsula.
We have seen tremendous changes in atmosphere and real dialogue between the two Koreas and the U.S. and we applaud the efforts that have been made by President Moon Jae-in. New Zealand also hopes to see more concrete steps from the North for denuclearization.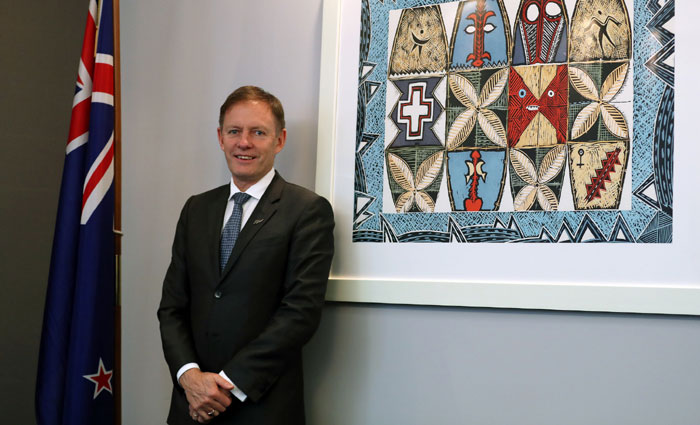 – Do you have any particular Korean food you love or a favorite tourist destination in Korea? 
I have visited Seoul a few times before, and have been really enjoying my life in Korea. I like temple food and simple food like white kimchi. Korean food is tasty and good for health, too. I visited Gyeongju this autumn and it was so beautiful. I wish to go there again whenever the season changes.
For New Zealand food, although we have plenty of wonderful food thanks to clean nature, I would recommend pavlova. It is a sweet dessert made with sugar meringue, and was made by a New Zealand chef to celebrate Russian ballerina Anna Pavlova's visit to New Zealand and Australia.
– Can you tell us about any particular New Zealand food or tourist attractions that you would recommend for Koreans?
New Zealand is a good place to visit all times of the year thanks to mild weather, but if you have to plan, the peak time would be from November to March. I would recommend you visit Milford Sound, well known for the beautiful gorge with fiourds, and the Abel Tasman Coast Track where you can enjoy the beautiful landscape while walking along the bush on the mountain near the coast road, both are on the South Island.
– Please tell us about your plans while working here. 
I would say three things. The first thing is to increase the economic partnership between the two countries. Secondly, we see opportunities to update the image of New Zealand from the traditional ones such as "a country with clean, green nature and agricultural products" and "the land of 'The Lord of the Rings'" by adding images of innovation and creativity. We also want to add to that more about people, about the diversity in population, innovation, creativity and technology.
Lastly, I would also like to stress that we hope to take more advantage of working with Korea, with a like-minded country in the same region with a similar agenda—in trade, security, or other domestic areas.