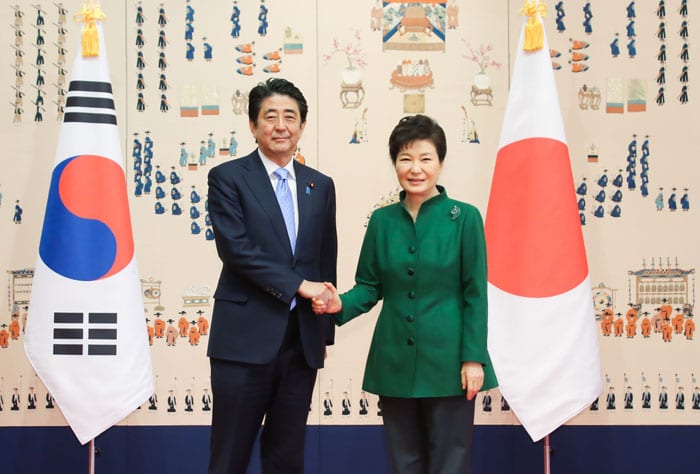 President Park Geun-hye and Japanese Prime Minister Shinzo Abe have agreed to accelerate talks in order to resolve issues surrounding the "comfort women" victims of sexual slavery.
They met during the Korea-Japan summit talks that took place on Nov. 2 at Cheong Wa Dae.
President Park told the Japanese prime minister that, "As this year marks the 50th anniversary of the normalization of diplomatic ties between Korea and Japan, this meeting is a turning point where both countries can now overcome their past history and make a start together for the future."
To this aim, the president said, "The issue of the so-called 'comfort women' should be resolved in an acceptable way for those victims and to an understandable level for all the Korean people."
"I hope today's summit will become a heartfelt meeting that that will heal the painful history in a broad manner, to offer a precious opportunity to both countries to develop their bilateral relations," she added.
Prime Minister Abe said, "In order to improve Japan-Korea relations, it is necessary to exchange opinions in an honest manner, even at the leader's level. Backed by the foundation of the development of Japan-Korea relations over the past 50 years, Japan will make efforts together in order to build a new era of Japan-Korea relations in a future-looking manner."
In regard to economic cooperation, the two leaders highly valued the fact that Korea and Japan have been closely cooperating on negotiations for a Korea-Japan-China FTA and for the Regional Comprehensive Economic Partnership. They further agreed to continue such cooperation in the future.
In regard to the Trans-Pacific Partnership (TPP) which was struck and led by the U.S. and Japan, President Park told her Japanese counterpart that Korea hopes to continue with bilateral trade cooperation, which Korea has been maintaining with Japan through the Korea-Japan-China FTA and RCEP negotiations, as well as the TPP.
Both leaders valued Korea-Japan and the Korea-Japan-U.S. cooperation and agreed to further strengthen such cooperation. They also shared the view that they should maintain cooperation at a multilateral level in order to respond to any North Korean nuclear issues.
The two leaders also shared a common understanding about the importance of active people-to-people exchanges. They agreed to make efforts together so that active exchanges among teenagers from both countries could lead to mutual understanding and an advancement in the bilateral relationship.
By Yoon Sojung
Korea.net Staff Writer
Photos: Cheong Wa Dae
[email protected]