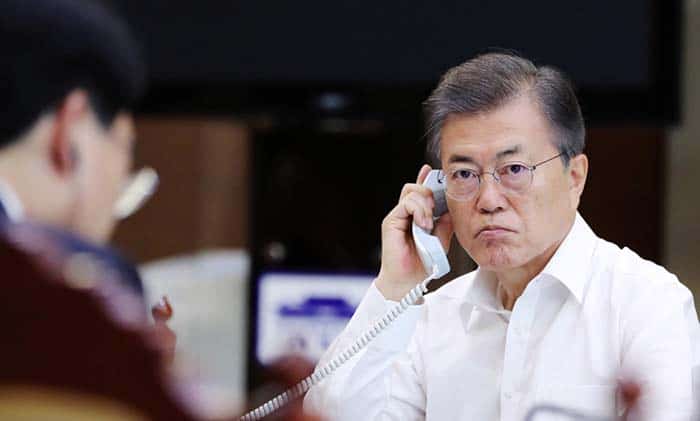 By Sohn JiAe
President Moon Jae-in held a telephone conversation with Japanese Prime Minister Shinzo Abe on Aug. 30 to come up with measures to jointly respond to North Korea's continuous provocations with its missile test launches.
The 20-minute talk came at the Japanese prime minister's request a day after the North Korean regime launched a mid-range ballistic missile that passed over and across Japan.
President Moon called the launch "violence against a neighboring country, not merely a provocation," as he expressed deep concern and gave words of consolation to the Japanese people who might've felt anxiety or threat by it.
The two leaders greatly appreciated the fact that their two nations are working with unprecedented cooperation to address this crisis on the Korean Peninsula. They also agreed that they should work together to maximize pressure on the North so that it would return to dialogue with the international community.
They cited the adoption of a statement by the U.N. Security Council, which had convened an emergency meeting after Pyongyang's missile launch, as "the outcome of close cooperation among Korea, the U.S. and Japan."
The two sides concluded the phone call by saying that they would continue to have more discussions on North Korean issues at the upcoming third Eastern Economic Forum slated to be held in Vladivostok, Russia, between Sept. 6 and 7.