Korea and Jordan will expand cooperation on energy, people-to-people exchanges and cultural interactions.
President Park Geun-hye hosted summit talks with King Abdullah II of Jordan during his official visit to Korea on Sept. 11. In the meeting, she said, "The volume of bilateral trade between our countries exceeded USD 1 billion in 2009. Since then, it has continued to increase, despite recent regional uncertainties. I hope that the two countries can develop many joint projects in energy, construction, medicine and other sectors where both can create synergies."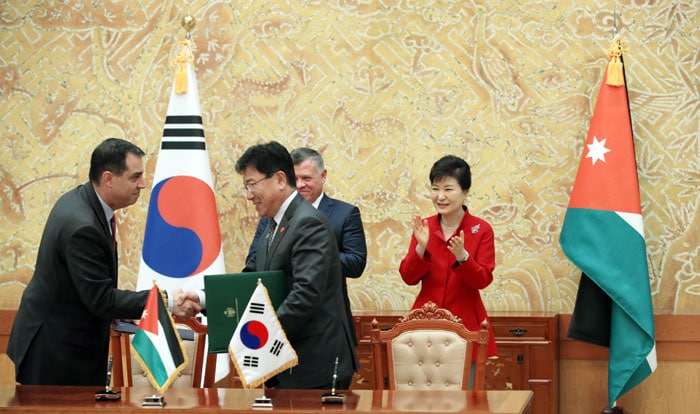 King Abdullah II said that Jordan plans to launch a state project worth USD 24 billion, hoping that Korean firms can participate in the project's development and in the renewable energy sector.
President Park responded by saying that, "Thanks to the MOU on energy cooperation signed by both countries, I hope that we can share technology and knowledge and engage in more active people-to-people exchanges and educational training sessions that can help Jordan's energy sector develop."
President Park told the Jordanian leader that, "People-to-people and cultural exchanges have been growing between our countries. I hope the newly signed visa exemption agreement for diplomatic passports can offer a systematic framework to vitalize people-to-people exchanges."
The Jordanian monarch mentioned cooperation in the medical sector. He said, "Jordan will build a remote medical treatment system and complete its computerization by 2016. As Korea holds state-of-the-art technology in the medical sector, I hope Korea can work with us in this sector, too."
By Yoon Sojung
Photos: Jeon Han
Korea.net Staff Writers
[email protected]