By Park Gil-ja and Yoon Sojung
Photos = Cheong Wa Dae Facebook
President Moon Jae-in and New Zealand Prime Minister Jacinda Ardern on Dec. 4 agreed to bolster cooperation in science and technology, the defense industry and research on Antarctica in their bilateral summit in Auckland.
The two leaders emphasized the shared values of their respective governments — people-centered values and inclusive growth — and agreed to create synergy between Seoul's New Southern Policy and Wellington's Pacific Reset strategy.
In a news conference after the summit, President Moon said, "Just like the Maori proverb, 'What's the most important thing in the world? People, people, people,' both of us leaders hope to work together to build countries where all people can live prosperously."
He highlighted the special friendship between Korea and New Zealand, both of which formed diplomatic ties in 1962.
Prime Minister Ardern said, "Korea has long been an important partner for New Zealand."
She said New Zealand will allow access to eGate, an automated method of getting through immigration, by Korean nationals next year. Both countries also hope to soon conclude a Social Security Agreement, she added, which will make it easier for the people of both countries to access their pensions while in either country.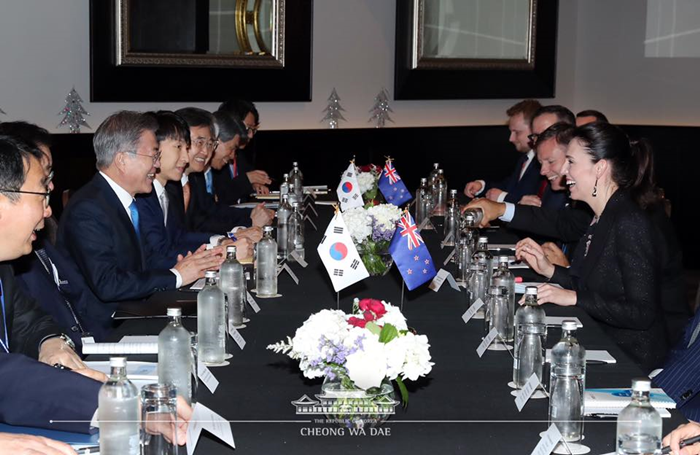 Since a free trade agreement took effect in 2015, the volume of bilateral trade has increased. President Moon, the first Korean leader to visit New Zealand in nine years, also pursued business diplomacy, especially in new and defense industries. Both he and Ardern agreed to raise investment and cooperation in sectors where both countries are strong, such as agriculture by New Zealand and infrastructure by Korea.
Seoul and Wellington also pledged to bolster defense cooperation on the occasion of the launching ceremony of the HMNZS Aotearoa Logistics Support Vessel, which was built by a Korean company. President Moon said Korea and New Zealand will strive to conclude an agreement on logistics support cooperation.
The two sides also agreed on collaboration in Antarctic research by combining New Zealand's experience and knowhow given its status as a signatory to the Antarctic Treaty and Korea's high levels of research and technology. They will also continue joint studies on emerging industries such as biotechnology, health care and information and communications technology.
President Moon on Tuesday returned to Seoul, wrapping up an eight-day overseas trip that also included stops in the Czech Republic and Argentina.
krun@korea.kr