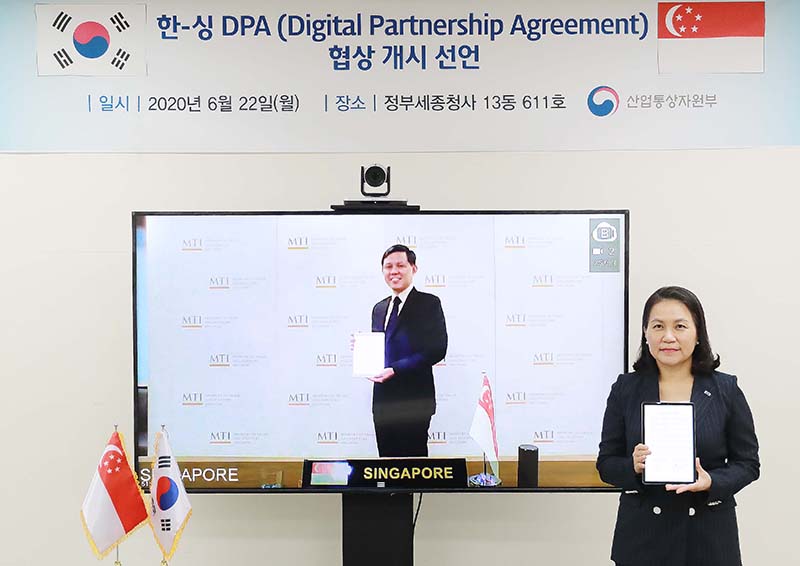 By Xu Aiying and Lee Hana
Korea and Singapore are pushing to conclude a digital partnership agreement.
Minister for Trade Yoo Myung-hee and Singaporean Minister for Trade and Industry Chan Chun Sing on June 22 announced the official start of negotiations on the Korea-Singapore Digital Partnership Agreement (KSDPA) at a videoconference.
Unlike a free trade agreement that covers goods, services and regulations, the KSDPA deals with matters in new and emerging digital sectors deemed difficult to control through regular trade accords. The new deal seeks to facilitate e-commerce by building related infrastructure, secure the cross-border trade of digital goods and services, and strengthen consumer protection amid the increasing volume of online transactions.
If concluded, this agreement will be the first of its kind for Korea.
Singapore is Korea's 12th-largest trading partner and has a similar digitization level. The KSDPA is important in that it will lead to the start of official discussions on setting up international regulations for the digital realm, the Trade Ministry said.
The new agreement includes cooperative elements including personal data protection and governance frameworks for artificial intelligence, and can be used as a bridgehead for building digital business models and entering the Southeast Asian market to eventually advance into the global market.
The two countries will begin the first round of official negotiations in mid-July.
Minister Yoo said, "The two countries agreed to swiftly negotiate the terms of our agreement with the goal of achieving tangible results by year's end. Through the agreement, we hope to ease the barriers to digital trade between our two countries and expand overseas opportunities for companies dealing in new and emerging technologies by boosting their global competitiveness."