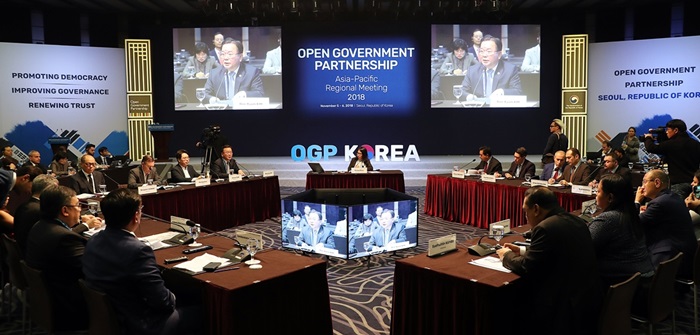 By Kim Young Deok and Kim Minji
Korea from May 29-31 will share the results of its government innovation with other countries at the sixth Open Government Partnership (OGP) Global Summit in Ottawa, Canada.
Seoul will promote open government activities such as raising civic participation and promoting higher transparency in the public sector.
Founded in 2011 and having 79 member countries, the OGP is an international consultative group promoting cooperation between governments and civic groups for better governance. Attending this year's summit in Ottawa are minister-level officials from member nations and representatives of civic groups.
The Ministry of the Interior and Safety sent a delegation to the summit to introduce Seoul's plan under the themes "engagement, participation and outcome." The delegation will introduce the "KRW 100 taxi," a low-cost transportation service for users with special needs, as an example of a public program removing a blind spot. Furthermore, the results and direction of Gwanghwamoon 1st Street, an open online and offline channel to reflect public opinion, will be featured as a benchmark for participatory democracy.
The outcome sector aims to resolve the challenges of the digital era, and the ministry will highlight examples of government innovation using digital technology and big data.
Lee Jae-young, deputy minister of interior and safety for government innovation and organization management office, said, "Our government innovation and OGP both aim to boost transparency in government, fight corruption and encourage civic participation. So we hope that Korea can serve as a model of government innovation."